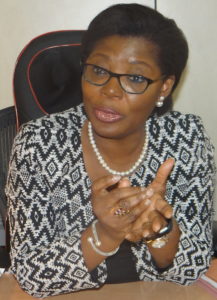 Mrs Funke Agbor, a past President of Women's International Shipping and Trading Association (WISTA) Nigeria, is a new Senior Advocate of Nigeria. Called to the Nigerian bar in 1982, she is the first female maritime lawyer in the country to become a SAN. Agbor's active participation in the development and formulation of maritime policies in Nigeria has contributed to her acknowledgement as an authority in the industry. In this rare interview conducted by Bolaji Akinola, Jite Eriabie and Oluwatoyin Amao, the leading maritime lawyer and arbitrator bares her mind on several issues concerning the maritime industry.
Excerpts:
Congratulations on your elevation as a Senior Advocate of Nigeria (SAN). How does it feel?
It actually feels really good. I didn't think it will feel as good as that but it actually does. First of all, I didn't aspire to it as early as I could have and when I did start working towards it; it seems like an endless road and in fact when my name was published in the newspaper as one of those to be conferred – from 4th of July when the names were published to 19th of September, which was the conferment ceremony day – I kept wondering if it would actually happen but it was a wonderful ceremony and I really give God the glory. It was an amazing day for me and I am really proud to be a SAN.
A lot of people said you were long overdue for it. Why didn't you pursue it early?
My focus was really on the practice of law. It was not something that was in my consciousness. I never considered myself as somebody who would be a SAN and it was not something I aspired for. I think this is as a result of a bit of my background. Well as we say, God's time is the best and I think now is the right time for me.
Can you give us more insight into your background?
When I started practice, I was working with Mr. Fola Sasegbon of blessed memory. He was a wonderful mentor to me and he was an activist in his years. I think he was the first or one of the earliest secretaries of the Nigerian Bar Association. When the issue of QCs and Senior Advocates came about, he didn't believe that you should apply. He thought that you should be invited and I think around that time in the UK, you needed to be invited to become a QC. With that sort of background, it was not something I felt was appropriate at that time because I was influenced in a way by him which was okay; I could understand where he was coming from, so I never really thought about it much. I was with him from 1985 to 1993 when I joined this law firm: Adepetu, Caxton-Martins, Agbor & Segun (ACAS) Law in 1993 and after a few years, it was like maybe I should actually consider it. At that time I must have been how many years at the bar because I was called to bar in 1982. So it was not something that was in my consciousness and it was not until 2005 that it occurred to me to work towards it and of course my partners felt I should apply and they encouraged me to do that and 10 to 11 years later, here I am.
It takes a long time because of the criteria and obviously if you are an active lawyer, it should not really be a problem but because there is such a backlog of cases, sometimesit is a bit more difficult than you expect. It was a great learning experience for me, quite a bit of a journey as well.
You are the first female maritime lawyer that has attained this height. What do you think is the significance of this to the women folk who mostly look up to people like you for inspiration?
I actually never thought of it like that as the first female maritime lawyer. I think as of when the last Senior Advocates were appointed, I think the women were like 19 or 20 now in the entire country and we have over 400. Well the route for women is quite different in the sense that I guess we have other responsibilities that we have to take side by side with having this kind of aspiration. In terms of significance, I think it is good because the maritime sector is an important sector of the economy and for me; it is a sector of the economy that I don't think the government has fully appreciated. I think it has been so difficult for them to put the right people to actually drive the Nigerian economy through the maritime sector. At the moment, what we are having as maritime or what we describe as maritime really that is even providing any real economic benefit for the country is the oil and gas sector and that is offshore oil trading and because offshore oil and gas sector requires maritime transportation, that is where we are getting the benefits at the moment, which is also part of the maritime sector and is very key. So, that is why we have NIMASA for instance, which is the maritime sector's regulator and the Nigerian Content Development and Monitoring Board which is the oil and gas regulator working hand in hand obviously with the maritime sector:
NIMASA deals with Cabotage, which is really the local content element of the maritime sector in Nigeria but what about the real sector that we call maritime, which is international carriage of goods, international trade? That is whyit is important they have balance of payment to ensure that the Nigerian economy is buoyant as a result of economic trade across borders.
Today, we are talking about a national fleet. I don't have a lot of background information about the national fleet but we know what the antecedents are. We know we had NNSL and the National Unity Line; both went out of circulation and may be as a result of the interest of the participation of government in business. My understanding is that the project of the national fleet is meant to be completely private sector-driven. We have to see what happens. I know a few members of the committee that is sort of bringing about the national fleet policy and I think they are well-informed people and we trust that they will do what is best because I am sure that will be their intention.
In terms of what being the first female maritime lawyer to be an SAN and how that impacts on other women who are aspiring to higher positions – so to speak – I think it will certainly be a kind of encouragement to them knowing that these things can actually happen. You can be a wife, mother, having a home to look after and at the same time have a career and be successful at it. You can't benchmark yourself against men who are about the same age with you because if you do that, you are looking for disappointments. What I tell people especially young women is that there is no rush. Sometimes you find women who are actually coming to their own after the children have gone to the university and if you go to school early, you finish first degree at 21/22, you do your Masters degree and you are in the workplace at age 25. You work for 10 to 20 years till about 45. By that time, your children should be grown so that at that age, you can actually kick start your race properly and you will still catch up and mind you, you are not catching up with anybody because there is no race. People will be wondering, how did you do it but you have to be focused. I encourage people not to compare themselves with men, especially women.
When you were President of WISTA Nigeria, were you able to pass this down to members of the association? Were you able to make any significant difference in their career pursuits?
Yes I think so because WISTA is very big on helping and empowering women in whatever field that they are in. Apart from private entrepreneurs, we had a lot of people who worked in government agencies and in government at age 55 or 60, one has to retire. If you retire at 60, you still have another 20 years clear to do something with yourself. So while you are there, you have to keep an eye open to what possibilities are available. We have guests that come to give talks to everybody about career opportunities in shipping. Shipping is not just about being a sailor on a vessel, there are all sort of things you can be like a ship broker, ship chandlerwhere people supply things to ship, involve in ship repairs and so on. Shipping is such a big industry. People should capitalise on the fact that when they are working in government agencies, they are sent out on training. They needto take those trainings seriously and not go on shopping spree because they can get something helpful in it later on.
Stakeholders generally talk about opportunities in the maritime industry; it is big, it can do more than oil and gas and so on. It is becoming more of rhetoric. For you, what worries you most about the maritime industry?
Nigeria is such a blessed country. How many countries can do anything on their own? They have to depend on countries that have coastline to be able to get their goods in and the benefits we have are the coastline, water, mineral resources, territorial sea, economic zone which is farther than the territorial sea and we are able to mind all the minerals that are there and we are blessed with all those minerals. So, why are we not doing more with what we have? We are talking about so much opportunity. There should be a global outlook and I think we are beginning to do that now. NIMASA should lead in making this happen but I think NIMASA has ascribed too much to itself under the Act all in a bid to ensure that it is fully in control of everything. Now there is (National) Inland Waterways (Authority) – NIWA – and I don't know what it is that it does that is actually different from NIMASA, although they seem to have the overall authority but they have limited NIWA and I think all that agency can do now is maybe to tax people as supposed to any other thing. I think also it has to do with maritime education. I was reading in the newspaper where it was said that the Rector of Maritime Academy of Nigeria said they were producing half-baked seafarers. Imagine that. And they have known that all the time. Everybody knows that anyway because they don't have the certification that seafarers require. They have to go to Ghana to get the certification. So, what are we doing? The opportunities are there. At a point there was money to do all those things; why can't MAN be a full-fledged academy the way it is supposed to be? So all the people that come out from there – the female and male cadets – they will be roaming about looking for where they are going to do sea trial and all kinds of things that they are supposed to do in the academy. MAN Oron I think is in the area where there is water, they are supposed to have all the things required but there is no money being put in there. As I earlier said, it has to do with education. We have the universities like LASU which had a maritime faculty of some sort, which I understand, has closed down. University of Lagos has some classes in maritime law. Of course law is another aspect of the maritime sector and there are other kinds of maritime practices, not necessarily law,that people can be involved in but what worries me is that there is no concerted effort at building a proper maritime sector. In other countries, you have what they call maritime clusters. They bring different aspects of the maritime sector as a cluster and they work with each other so that one cluster is related to the other in some way.
You alluded to NIMASA earlier on. NIMASA came into being about 9 years ago. Would you say it has lived up to the reasons for its establishment?
Clearly, there is certainly a need for NIMASA but whether it should be doing all the things it is doing is a completely different question. I think that over the years they have tried to build capacity in the different sectors that they deal with i.e technical side, shipping development, maritime labour and maritime security. It is such a huge undertaking and now they are the designated authority for implementation of ISPS Code. Are they able to do what they are supposed to do? They should if they have the capacity. They should train people but I think there is a lot more that needs to be done and they have not been able to get at some point may be earlier on but today they have not been able to give the maritime practitioners the full confidence that they can do all they are supposed to do. We need to see real professionalism. They need to build a professional agency so that when people are talking to people in NIMASA, they know that the person they are speaking to knows what he is saying and if you are challenging them, they will know the basis on which they are challenged. There has to be an understanding between practitioners and the agency. You cannot be wielding the big stick because you are meant to be partners in progress and not threatening stakeholders. Under the past PDP administration, that was what we saw in NIMASA. They were welding the big stick. There were threats here and there and because there was such a big drive for revenue, they were clamping down on operators in an arbitrary manner. Yes people may be in contravention but there is a process and there is need to followit because it is process that makes things work. Right now, the whole place is shaky. We are not clear on so many things. Well we have got a new leadership there and he is trying to find his own feet; all they can do is find the way to help him find his feet but he also has to have a vision; clear vision that is articulated and that people will understand. They need to really put their house fully in order.
While they are wielding the big stick against foreign interests because they feel they have the money to pay some of these taxes, they can't do the same to local operators. For instance – and this has nothing to do with NIMASA – we are talking about building capacity in shipping. They want Nigerians to bring in ships or build ships and use them here. If you buy a ship, you are charged 20% import duty on it. How do they want the local ship owners to make progress with that type of tax?
In other parts of the world, duty is not charged on vessels.
But why will you charge duty on vessels? And we have been talking on all of these all this while. It is just counter productive. Nobody is going to bring any vessel at that type of rate. It is not going to happen. They will register and trade it elsewhere. They are not going to trade it here. Right now, how many Nigerian vessels are registered under Nigerian flag for international trade? None. The only ones registered are all these Cabotage vessels -tugboats, patrol boats, crew boats – and the likes; little things like that. They are not going to bring any large tonnage vessel and say they are going to bring it into Nigeria at 20 percent; nobody will do that.
Some stakeholders like Captain Ihenacho have even advocated the unbundling of NIMASA. Where do you stand on this?
Well, there must be a reason and obviously it means that NIMASA as it is today is not functioning as optimally as it could.  So maybe that is why he is calling for the unbundling and if he is calling for the unbundling, knowing Captain Iheanacho; he would have probably told us how it should be unbundled. If they can make it a professional body, then I don't think there will be so much call for unbundling.
Is it more a question of effectiveness; making NIMASA more effective?   
Yes. If it is going to be more effective in terms of dividing it into two or three, then so be it because the law is there. What were they established for? Can they do all those things?
You were part of the making of the Cabotage Law, but since 2003; 13years down the line, those who are expected to benefit from it are still complaining louder than never before. So in essence, implementation has failed. What will you attribute this failure to?
Well, I was never really part of the Cabotage Act. They had people who prepared it and there were discussions. Maybe I was part of the discussions in the early days. But really and truly, it depends on who you are listening to. Who are saying that it is not working?
The local ship owners.
But they are beneficiaries of the Cabotage law.
They said their vessels are lying idle;unable to work because of failed implementation of the law.
Well I don't know because to use these vessels, you have to send out tenders and the people who employ these vessels are the oil companies and under the local content law they have to send out bids and those vessels have to meet certain specifications. So if your vessel meets specifications, I don't see why they will not be engaged.
Is that where the problem is, being in class?
That is where the problem is. They have to be in class. To be honest, I think the Cabotage law has worked quite well in terms of how it has built capacity. It has really built capacity from 2003 to now. A lot of Nigerians are very much involved in the Cabotage trade. Having vessels is only a part of it. All those repair yards in the Niger Delta; there are a lot of repair yards that are really growing and that people are actually relying on. You have LADOL in Lagos and it is doing very well.
Are you satisfied with the representation of women in the shipping sector in terms of appointments into boards etc?
I don't really have real insight into some of these things in terms of corporate bodies and representation of women but I think there are quite a few women in position of authority in the sector. There are people who are there quietly doing their jobs. I think the opportunities are always there. It is just for people to want to aspire to those positions of responsibility and work towards it. I don't see how anybody can stop any woman from being who she wants to be.
Will you be disposed to taking a government appointment?
I don't think I would reject a government appointment. It is something that one will always consider because if you sit in your house everyday and complain and then you have the opportunity to do something and reject it; you only have yourself to blame. You know I have been on a few government committees here and there. There was a time when they were trying to reform the transport sector but the committees were usually so huge and I don't know how effective some of them can be. I have been on some of these committees where they needed a maritime lawyer.
A lot of revelations are coming to the fore in the maritime industry concerning financial misappropriations. The former Customs Comptroller General, Abdullahi Dikko reportedly refunded N1billion. So much has also been said about past managements of NIMASA. How did you receive these mind-boggling revelations?
It is mind-boggling. The maritime industry is just another facet of Nigeria. The people there are Nigerians, and the sector is just a replication of the abysmal system in Nigeria. You know when you suspect something is happening and when it turns out that what you suspect is actually happening, it is so disheartening because you are hoping that it is not as bad as that. But I think we just have to move on from the bad old days and just look forward. If we keep looking behind us like that, we wouldn't get anywhere. So on one side, government is fighting corruption and they are prosecuting all these people.  It is a good thing to prosecute to show people behind that if you do this, there are consequences and that you will suffer those consequences but if you do your work conscientiously without looking right or left, you do the right thing, even people who are looking for a way to compromise you will respect you and then when you leave service, you find people looking for you to be put on their boards. Integrity pays every time. Integrity is not supposed to fall prey to temptation.
Copyright Ships & Ports Ltd. Permission to use quotations from this article is granted subject to appropriate credit given to www.shipsandports.com.ng as the source.