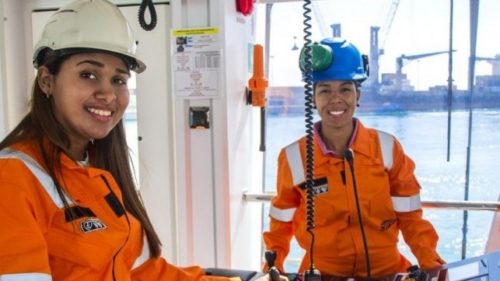 Global towage operator Svitzer has hired the first 100% female crew for one of its tugs in the Dominican Republic.
The vessel, the 70-ton bollard pull Svitzer Monte Cristi, provides harbor towage services for ships in the port Santo Domingo.
Svitzer says the all-female crew in an industry typically dominated by men is part of a gender inclusion initiative and marks a milestone for gender diversity in the Latin American maritime industry.
"Many things that we presume to be done through physical force, in reality, only require technical intelligence and the right tools. Many may think that women do not have the ability to work on a powerful tug boat, but our crew has shown that this type of work is not exclusive to a specific gender. With dedication, it is very possible," said Chief Engineer of Svitzer Monte Cristi, Marysabel Moreno.
The team on board Svitzer Monte Cristi is led by Captain Maria de los Santos, accompanied by Chief Engineer Marysabel Moreno and supported by sailors, Paloma Montero, Loreanni Torres and Juana Custodio.
The General Manager of Svitzer Caribbean, Captain Dickson Rivas, and others at the company spent two years pursuing the project, focusing the team's energy on training.
"These women have become local icons for others and have proven to be an efficient and hardworking team," said Captain Eduard Medina.
Svitzer says it hopes the gender-inclusive initiative will help buck the historical predominantly male trend in the maritime industry. According to The International Transport Worker's Federation, it is estimated that only 2% of the maritime workforce is made up of women, most of them employed on cruises and ferries.
"However, in the Dominican Republic, you can now find women in the ranks of officers or captains directing vessels and performing maneuvers safely," says Svitzer.
"At Svitzer, we want to work actively to improve the opportunities and careers of our female colleagues and for those who work in the industry. Today, globally, the organization employs a total of 21 marine women who work on command positions to operational tasks," said Rivas.
Svitzer Monte Cristi was one of two Robert Allan-designed Ramparts 2400 SX tugs delivered by Sanmar Shipyards to Svitzer Americas in 2016.
The 24m vessels is equipped with a pair of Caterpillar 3516 C main engines, each producing 2,100kW of power at 1,600 rpm. The tugs feature Rolls-Royce type US 255 FP azimuth drives with carbon shafts turning 2,600mm diameter propellers, Caterpillar-supplied auxiliary generator sets, and fire-fighting systems supplied by FFS. The tugs have a top operating speed of 13 knots and can carry 78m3 of fuel oil and almost 12 tonnes of fresh water, as well as 4.4m3 of foam. The tugs are equipped with CJC off-line filters for fuel oil, main engine oil and thruster gear oil. 
Copyright Ships & Ports Ltd. Permission to use quotations from this article is granted subject to appropriate credit given to www.shipsandports.com.ng as the source.