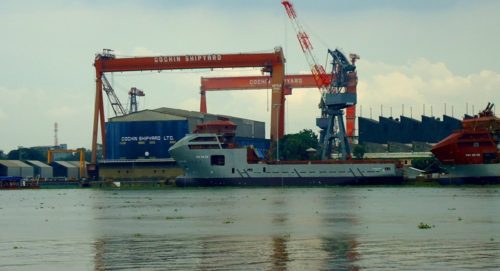 Six Russian companies, including shipbuilders and marine equipment manufacturers, have been sanctioned by the United States in collaboration with Canada and the European Union.
The new sanctions are in response to Russia's alleged unjustified military actions against three Ukrainian vessels and the capture of Ukrainian sailors in the Black Sea in November 2018.
In addition, the sanctions target individuals and entities playing a role in the illegal annexation of Crimea, and backing of illegitimate separatist government elections in eastern Ukraine, according to the US Department of the Treasury's Office of Foreign Assets Control (OFAC).
The actions, which kicked in on March 15, are said to underscore continued transatlantic unity in responding to Russia's aggressive actions in Ukraine and its violation of international law.
The sanctions target six Russian defense firms with operations in Crimea, several of which misappropriated Ukrainian state assets to provide services to the Russian military. This is in addition to sanctions imposed on other companies and individuals in Russia.
The targeted firms are shipbuilders Yaroslavsky Shipbuilding Plant and Zelenodolsk Shipyard Plant, equipment manufacturer AO Kontsern Okeanpribor, supplier PAO Zvezda, electronics manufacturer AO Zavod Fiolent and defense component producer GUP RK KTB Sudokompozit.
Five years after its invasion of Ukraine and its attempted annexation of Crimea, Russia has continued to undermine Ukraine's sovereignty and territorial integrity, according to OFAC.
On November 25, 2018, Russian authorities opened fire on and rammed three Ukrainian ships off the coast of Crimea, seizing the ships and capturing 24 Ukrainian crew members, who remain illegally detained in Russia. Russia also continues its occupation of Crimea, and the Kremlin has also backed illegitimate elections held by Ukrainian separatists in the so-called Donetsk People's Republic on November 11, 2018.
"The international community is strongly aligned against Russia's naval attacks in the Kerch Straight, purported annexation of Crimea, and support for the illegitimate separatist-conducted elections in eastern Ukraine," Treasury Secretary Steven T. Mnuchin, said. 
The Minister of Foreign Affairs of Canada, Chrystia Freeland, said, "Alongside our international partners, we call on Russia to immediately release the 24 detained Ukrainian servicemen and return the seized vessels. Russia must allow free and unhindered passage through the Kerch Strait and the Sea of Azov."  
Copyright Ships & Ports Ltd. Permission to use quotations from this article is granted subject to appropriate credit given to www.shipsandports.com.ng as the source.