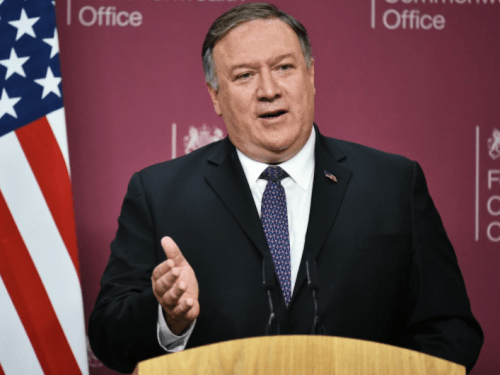 The Trump administration has imposed a new batch of sanctions against Iran, targeting an Iranian shipping network and airline.
U.S. Secretary of State Mike Pompeo said that the designated shipping companies include the Islamic Republic of Iran Shipping Lines (IRISL) and its China-based subsidiary, E-Sail Shipping.
Pompeo described IRISL as the shipping line of choice for Iranian proliferators and procurement agents. As explained, the previously sanctioned IRISL had its sanctions lifted in January 2016 as part of the Joint Comprehensive Plan of Action (JCPOA). However, the U.S. Secretary believes the move was an enormous mistake as it allowed IRISL to "knowingly engage in activities and transactions that materially contribute to Iran's proliferation of weapons of mass destruction."
To allow exporters of humanitarian goods enough time to find alternative shipping methods, the designation will become effective in 180 days, i.e., June 8th, 2020.
Shanghai-based E-Sail Shipping was sanctioned for alleged transportation of illicit materials from Iran's Aerospace Industries Organization, which oversees all of Iran's missiles industry, as well as business activities with two Iranian organizations already subject of U.N. sanctions.
The U.S. Department of the Treasury's Office of Foreign Assets Control (OFAC) said on Wednesday that it had designated an Iranian shipping network including Khedri Jahan Darya Co and Maritime Silk Road LLC, owned by Iranian businessman Abdolhossein Khedri, for alleged involvement in smuggling of lethal aid from Iran to Yemen on behalf of the Islamic Revolutionary Guards Corps-Qods Force (IRGC-QF).
The Treasury accused Khedri of being involved in shipping operations for the IRGC-QF for over ten years, saying that he was using the companies' vessels for the smuggling operations since 2018.
Khedri Jahan Darya Co is a shipping line that operates out of Iran, and is the registered owner, ship manager, and commercial manager of the merchant vessels Genava 11 and Genava 12. The Genava 12 was suspected of involvement in the transport of IRGC-QF cargo from Iran, ultimately destined to Yemen.
Furthermore, the Treasury said that Maritime Silk Road LLC is a shipping company which, between 2015 and 2017, used the Genava 12 to ship cargo for an IRGC-QF-affiliated company.  Maritime Silk Road LLC is being designated pursuant to E.O. 13224 for being owned, controlled, or directed by Abdolhossein Khedri.
The announcement comes on the back of last month's seizure of weapons by the U.S. Navy smuggled on a small boat destined for Yemen, according to the U.S. government.
"The Iranian regime uses its aviation and shipping industries to supply its regional terrorist and militant groups with weapons, directly contributing to the devastating humanitarian crises in Syria and Yemen," said Secretary Steven T. Mnuchin.
"Aviation and shipping industries should be vigilant and not allow their industries to be exploited by terrorists."