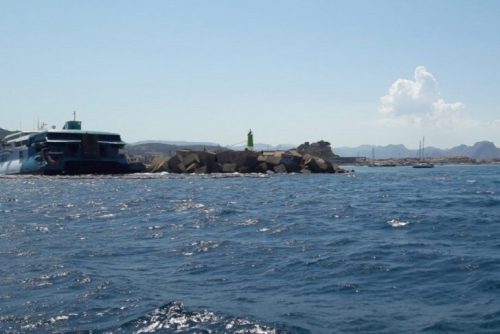 Almost 400 passengers have been evacuated from a Balearia-operated ferry after the vessel ran aground near the Port of Denia in the late evening hours of August 16.
The Cyprus-flagged Pinar del Rio was carrying 393 passengers and 70 vehicles on board when it hit the harbor wall.
Spanish rescue organization Salvamento Maritimo, along with a Balearia tug, evacuated all passengers following the accident. There were no reports of injuries.
An investigation into the accident was launched. Although there were no signs of an oil spill following the grounding, the Salvamento Maritimo set up an anti-pollution barrier as a preventive measure.
Baleària is currently working on developing a plan to refloat the vessel. It has in the meantime deployed ferry Bahama Mama to the Dénia-Ibiza-Palma route that was serviced by Pinar del Rio.