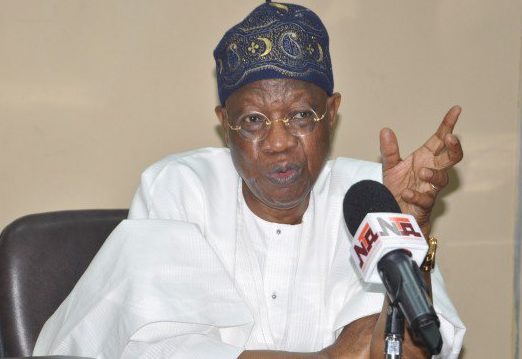 The Federal Government has approved $1.3 billion (about N468 billion) from the National Sovereign Investment Fund to finance five critical infrastructure projects, Minister of Information and Culture, Lai Mohammed said.
The minister made this known on Sunday when he appeared as guest on a
Nigeria Television Authority programme, "Stepping Up".
He noted that the five ongoing projects to benefit from the fund included the Lagos-Ibadan Expressway construction, the second Niger bridge and the East-West road construction.
The other two are the Abuja – Kano expressway construction and the Mambilla power project.
Mohammed said President Muhammadu Buhari's administration was committed to infrastructure development across Nigeria and would continue to revive and complete all abandoned projects inherited from previous administration.
He said, "We believed that rather than starting new projects, it will benefit Nigerians to complete all inherited abandoned projects.
"To appreciate the commitment of the administration to infrastructure:
In 2014 Nigeria spent N14 billion on transportation, N34 bilion on water resources and agriculture and N106 billion on power works and housing.
"In 2017, this administration spent N107 billion on transportation, N130 billion on agriculture and water resources and N325 billion on Power, Works and Housing.
"The administration, in a manner unprecedented in the history of the country, spent a total of N2.7 trillion on capital projects in 2016 and 2017 alone," he said.
The minister listed the Oyo-Ogbomosho expressway being funded by Sukuk bond, the 240km Enugu Port Harcourt roads among the numerous ongoing
projects of the government.
He said the administration had completed the reconstruction of the failed Ilorin-Jebba-Mokwa road which had been abandoned for over 10
years.
The minister identified the 69 Federal Government ongoing projects in
the South-East region, adding that the administration was miffed by the false allegation that the region was abandoned in infrastructure development.
On rail projects, Mohammed said the 156km Lagos -Ibadan standard gauge was ongoing.
He said the government in April signed an agreement with a consortium led by General Electric to revamp the 3,500 km narrow gauge between
Lagos and Kano.
The minister said the Abuja-Kaduna standard gauge was working and the government had in the pipeline, rail projects for all parts of the country.