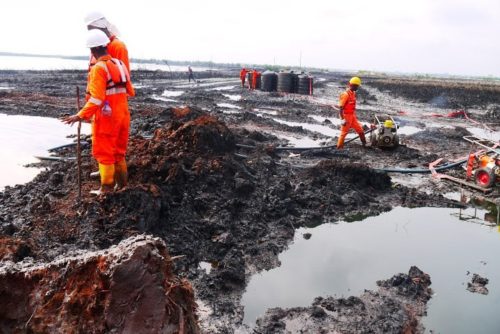 The Minister of State for Environment, Alhaji Ibrahim Jibril, on Monday, disclosed that the Federal Government was set to commence the clean-up of oil spills in Ogoni land.
Jibril made the disclosure on the sideline of the 2018 International Day for Preservation of Ozone Lay in Abuja.
He said that the clean-up exercise would begin before the end of this year.
The UN Environment Programme (UNEP) had recommended an initial release of $1 billion to be used for the clean-up of oil spills for over a period of five years.
The clean-up exercise, according to UNEP, will take 25-30 years to restore the environment.
Much of the funding for the clean-up is expected to come from the oil companies.
Jibril said out of $200 million expected from oil companies, $177 million had been raised for the operation.
He said, "For 2018, $200 million is expected but so far the joint venture partners and NNPC had been able to raise $177 million for the operation, which will commence soon.
"Right now, the procurement process is at the very last stage and very soon, we should be able to go to Federal Executive Council meeting to get approval for the contract to be awarded.
"We believe that we should be able to go to the field in the fourth quarter of this year to commence remediation exercise."