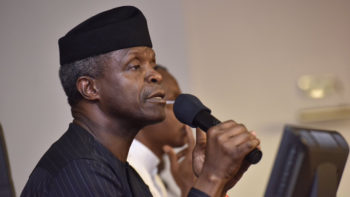 By Omotilewa Quadri 
The Federal Government has approved the report of the forensic audit of revenue accrued from revenue generating agencies into the Federation Account, Excess Crude Account (ECA) and Consolidated Revenue Fund (CRF). 
The committee audited 18 federal agencies including the Nigerian National Petroleum Corporation (NNPC), the Federal Inland Revenue Service (FIRS), Nigeria Customs Services (NCS), Nigerian Maritime Administration and Safety Agency (NIMASA), Nigerian Ports Authority (NPA), Nigeria Communication Commission (NCC), the Central Bank of Nigeria (CBN), Department of Petroleum Resources (DPR), Nigerian Petroleum Development Company (NPDC) and others.                                                                 
The audit uncovered massive cases of unremitted revenue into the federation account, according to the Deputy Governor of Lagos State, Idiate Adebule after the National Economic Council meeting presided over by Vice President Yemi Osinbajo at the Presidential Villa yesterday.
Adegbule said the committee recommended that the council decides on repayment plans for all concerned as well as stepping up oversight function on the relevant agencies to ensure remittance as due.
She also stated that the committee recommended the proper and regular auditing of the amount of the revenue generating agencies and those of the Federal Government and also the need for annual review of the agencies.
She said, "The report was prepared by KPMG, and audited 18 Agencies including NNPC, FIRS, Nigeria Customs Services (NCS), NIMASA, NPA, NCC, CBN, DPR, NPDC and many others. The report covered period January 2010 to June 2015.
"The report observed several cases of under-remittance and a few over-remittance in some cases both by identified agencies. There were also late remittances into the various accounts." 
The Deputy Governor explained that the committee would study the KPMG report and the recommendations and report back to Council at its next sitting for possible adoption.
"The Federal Government officials including the CBN Governor, the Ministers of Finance, Budget and National Planning and Minister of State, Petroleum Resources would join the expanding Committee to also take a look at the report," she added.  
Copyright Ships & Ports Ltd. Permission to use quotations from this article is granted subject to appropriate credit given to www.shipsandports.com.ng as the source.