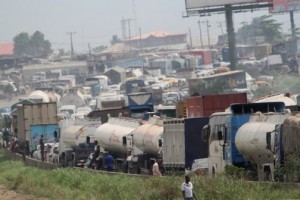 The National Environmental Standards and Regulations Enforcement Agency says the Federal Government will enforce ban on importation of two-stroke engines and vehicles without emission reduction technology into the country.
The Director-General of the agency, Dr Lawrence Anukam, on Thursday said that emission releases from vehicles could be about 60 per cent of air pollution in the country.
He said that the agency had collaborated with Ministries, Department and Agencies , Vehicle Inspection Officers, Federal Road Safety Commission, Nigeria Police and other relevant agencies across the country.
He said that the collaboration was to test vehicles for excessive emission and to ensure air quality in the country.
He said that government would be launching Vehicular Emission Control Programme in the first quarter of 2017.
Anukam said that governments with other relevant organisations were committed to ensuring that the launching of the programme would be successful.
He explained that the programme would also involve experts from international organisations, adding that the efforts would ensure effectiveness of the programme.
He said, "We are still working on the launching of the programme; this is to ensure that every mechanism and plans are properly arranged.
"A lot of work are going on and we are hoping that in the first quarter of 2017, we are going to formally launch the programme.
"Vehicular emission is an issue that we are seriously committed to ensure for proper lasting solution, we will follow it up; to ensure that everything is put into consideration.
"We just have to launch the programme, it has been a long time and we need to do the formal launching of the programme.
"The importance of the programme is to ensure proper monitoring and evaluation of vehicles on the roads."
Anukam said that the government was concerned about air pollution from human activities and one of such was vehicular emissions.
He added that emission could lead to harmful gases and dust into the atmosphere.
He said, "Vehicular emission had caused severe environmental hazards in our environment such as acid rain, global warming, depletion of the ozone layer and has led to climate change."
The director-general however urged Nigerians to always maintain their vehicles and obey environmental laws and regulations to promote environmental health.