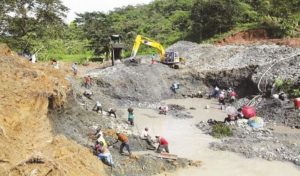 The Federal Government has disclosed that over one billion naira has been generated in the last one year from the sale of mining leases through the Mining Cadastre Office (MCO).
The disclosure was made by the Minister of state for Mines and Steel Development Hon. Bawa Bwari, at the announcement and launch of a partnership between the Federal Government and Afrocet Montgomery towards the hosting of ConMin West Africa and the National Mining Summit in April 2017.
According to Bwari, the money generated by the Ministry came through small scale mining leases and exploration licenses. He said over 300 licenses had been revoked for falling short of government's conditions attached to the issuance of mining licenses, while notices had been placed on several others to ensure holders of various licenses are operating and committed towards the development of the sector.
In addition, the minister attributed the successes recorded by the ministry to the active participation and cooperation of the private sector, in ensuring that the sector is fully harnessed and exploited for economic development.
"Over the last one year, we have observed different model of partnerships between private sector interests and government in executing world class mining conferences that bring participants from all over the world, which would become regular fixtures in the global mining calendar to deliver shared value for all stakeholders", he said.
Bwari who reiterated government's effort in making the country a popular mining destination said the National Mining Summit will be centered around the Nigerian Mining Road Map to introduce to the international mining community a regime of robust mining legislation and pro-growth policies that will create a globally competitive platform for stakeholders in Nigeria's mining and mineral processing sector.
He stated that the summit will attract over 150 companies who will exhibit their products and services through custom-built exhibition booths. He added that about 3,000 visitors are expected from West Africa Mining and Construction sectors.
Regional Director Deloitte, George Pearson said Nigeria had taken large strides in re-positioning the mining sector and the successful exploration and exploitation of its mineral resources has been prioritized as the next frontier of the opportunity for development.