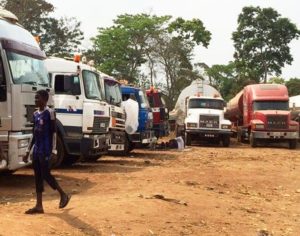 The Federal Ministry of Transportation will on Tuesday in Abuja hold a national summit on Truck Transit Parks.
Organizers of the event said the focus of the summit is to brainstorm on ways to address the infrastructure deficit in the country, provide short-term resting place for truck drivers on long distance travels and reduce loss to life and cargo caused by accidents arising from fatigue.
The summit which is an initiative of the Nigerian Shippers' Council (NSC) is aimed at establishing a common platform upon which the safety and security of cargoes and haulage vehicles will be enhanced while in transit.
Among those expected at the summit are stakeholders in the transportation sector, captains of industry, top government functionaries and academics.
A statement signed by NSC's head of Media and Corporate Services, Ignatius Nweke said the Truck Transit Parks (TTP) is a PPP project aimed at providing public rest areas located off the road, designed to provide temporary rest location for truck drivers.
"It is primarily intended for short-term breaks and also long-term parking services where truck drivers can get fuel, food, restrooms, shower and basic supplies like oil and spare parts as well as servicing and repairs of haulage vehicles," he said.
He said the summit will among other things, deliberate on market analysis that has already been conducted as well as how the business and operating model can address the supply gap for a modern TTP.
"Feasibility studies has been conducted for the establishment of the Truck Transit Parks in Lokoja ( Kogi State); Obollo-Afor (Enugu State); Jebba (Kwara State); Ore (Ondo State) ; Ogere (Ogun State); Porto Novo Creek (Lagos state); Onitsha (Anambra State) and Mararaban Jos (Kaduna State)," the statement said.