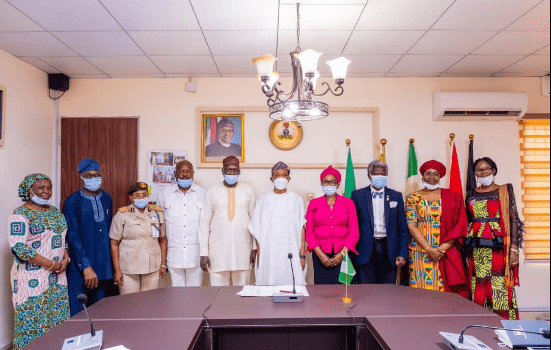 The Federal Government has inaugurated a nine-man Special Ministerial Task Force on Monitoring and Enforcement of Nigerian Expatriate Business Permit and Expatriate Quota Administration in the country.
The task force is expected to complete its assignment in 180 days.
The Minister of Interior, Rauf Aregbesola, who inaugurated the task force in Abuja on Tuesday, said that it became necessary because there has been abuses and gross violations of the expatriate quota policy by foreign investors.
In a speech titled, 'Towards a new order in expatriate business permit and quota administration,' Aregbesola said that the expatriate quota policy was aimed at encouraging foreign investors to "invest in our economy and also bring with it high-level manpower development and ensure technology transfer in the country if the grooming of Nigerian understudies is done in good faith."
He said, "What we are gathered here to do resonates with the core mandate of this Ministry in two ways. The first is economic development. Expatriate quotas are issued to usually foreign and (in some cases) Nigerian firms to enable them to bring in high-level skilled manpower that is not readily available in the country.
"The permit is valid for two years at the first instance and renewable cumulatively for a maximum of 10 years, after which the expatriate returns to his or her country. During this period, at least two Nigerians should be groomed to take over from the ex-pat.
"This policy attracts investments in our economy and also bring with it high-level manpower development and ensures technology transfer if the grooming of Nigerian understudies was done in good faith. This is in line with President Muhammadu Buhari's promise to provide 100 million jobs for Nigerians."
According to a statement by the ministry spokesman, Mohammed Manga, the economic boost this would generate will lead to wealth creation, national self-reliance and will provide jobs for the youths.
He regretted, however, that there have been abuses and gross violations of the policy, noting that companies were employing expatriates without approval from the ministry; obtaining fake permits for their expats; not grooming Nigerian understudies and recruiting fewer than required understudies and giving them non-commensurate remunerations.
He also alleged that firms were carrying out illegal transfers of approvals between and among firms and expatriates and failing to train Nigerian understudies up to the standard of the expats they are being groomed to replace while expats were staying on their jobs for more than 10 years.
The minister stated, "This situation is not sustainable and we should not continue with it. I have, therefore, directed that a nine-member special task force that will monitor and enforce the Nigerian expatriate quota terms and conditions be empanelled with the following terms of reference: Audit all documentary requirements presented by all Expatriate Quota applicants for approval/renewal from 2015 to date;
"Verify compliance with all statutory returns as stipulated in the Ministry of Interior Regulation 2017; verify compliance with the mandatory two understudies for each expatriate quota position in terms of the qualification of the Nigerian understudy and remuneration."
Aregbesola stated further that since he assumed office, he has been conscious of the importance of this seemingly innocuous administrative procedure and has directed the fast-tracking of expatriate quota application, noting that the ministry has significantly increased the number of approved business permits and decreased the duration of the process from 10 to seven weeks.
"From August 2019 to date, he said, 1,182 companies have received the Minister's approval with 12,374 expatriate quota positions," the minister disclosed.
Responding, the Chairman of the Special Ministerial Task Force, Bola Ilori, promised that the committee would carry out the assignment which is aimed at generating employment for Nigerian youths and to ensure that foreigners respect the nation's laws.