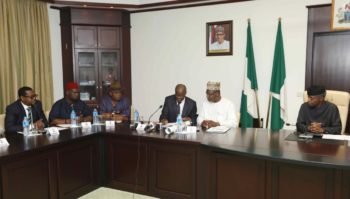 The Ogoni Trust Fund escrow agreement was on Friday signed by the Federal Government, the international oil companies (IOCs), and representatives of the Ogoni people.
The agreement was signed at a meeting presided over by Vice President Yemi Osinbajo at the Presidential Villa, Abuja.
The agreement signing puts in place all the financial arrangements to start the drawdown of the first tranche of the funding for the Ogoni Trust Fund.
The total sum expected to be paid by the Nigerian government and IOCs into the fund in the next five years is $1billion.
Osinbajo speaking during the short ceremony said that signing of the escrow agreement "is one that shows clearly that not only are we committed to ensuring that clean-up is done but that it's done transparently."
He noted that the presence of representatives of the international oil companies and the Ogoni leaders at the signing of the agreement showed that government wanted everyone to be carried along in the process as well as to ensure that the process that can be audited.
The Vice President said there had been expressions of interest by companies to be involved in the clean-up of Ogoni land, noting that some of them had been identified as likely parties.
He said, "We are certainly looking forward to doing something quickly and seeing that this exercise not only begins but is concluded as expeditiously as possible."
Osinbajo explained that the clean-up exercise would be expensive while the complete clean-up would take between 25 and 30 years, adding that it showed the "extent of the damage that has been done over decades in Ogoni land."
He also spoke on consultations between government and the Pan Niger Delta Forum, PANDEF, which began in 2017, and has seen him visit oil-producing communities in line with President Muhammadu Buhari's new vision for the Niger Delta.
He said the new vision "is one that we intend to stick with and one that we intend to execute as faithfully as is humanly possible," and has resulted in the establishment of the Maritime University in Okerekenkoko, Delta State.
He said the clean-up of Ogoni land is part of the new vision.
Also speaking, Minister of State for Environment, Ibrahim Jubril, said a complete list of activities has been lined up from now to the end of the year for the actual remediation exercise in Ogoni land to begin.
The Chairman of the Board of Trustees of the Ogoni Trust Fund, Olawale Edun, had earlier in his address, said they were "set for the full rollout of the of the Ogoni land clean-up project."
He said the sum of US$170 million has already been put in process as the first tranche to begin the drawdown of money into the Ogoni Trust Fund.