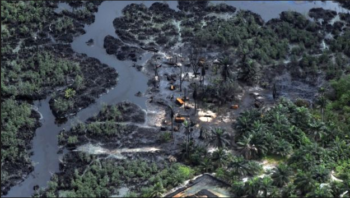 The Ministry of Petroleum Resources on Monday disclosed that the Federal Government and International Oil Companies (IOCs) will invest about N1.7 trillion in Niger Delta in the next three years.
The Minister of State for Petroleum Resources, Ibe Kachikwu; Technical Adviser on Niger Delta Affairs, Charles Achodo; made the disclosure at the 2018 Sustainability in the Extractive Industries (SITEI) conference, in Abuja.
Achodo accused indigenes of oil-producing region of sabotaging government's efforts by refusing to implement most of the projects that were expected to benefit the region.
According to him, the Niger Delta has become a cacophony of voices but without a purpose. It has also become a region with a cacophony of all kinds of projects.
He said, "When you look at the Niger Delta development compacts, which covered the short-term, medium-term from now till 2021, you are looking at a total investment of N1.7 trillion that is earmarked for the region. This amount covers what the oil companies are putting into the region, what government agencies are putting into the region and all kinds of investments required in that region.
"Amnesty is very clear, and it cannot be a solution to the state of insecurity in the Niger Delta. Rather, you use the amnesty to create an asymmetrical environment. A fragile environment does not like asymmetry; it likes more of a symmetrical response."
However, Delta State Women Leader, Host Communities of Nigeria (Producing Oil and Gas), Delta State Chapter, Omude Ochonogor-Ochibe, said the Federal Government had been frustrating project implementation in the region by not releasing funds meant for projects.
Ochonogor-Ochibe said, "One thing is for you to approve fund for a project. It's another thing for you to release the fund. They come to say they have spent certain amount of money but it's only on the pages of the paper. The government needs to sign a long development plan for the Niger Delta region just as it was done for Abuja."