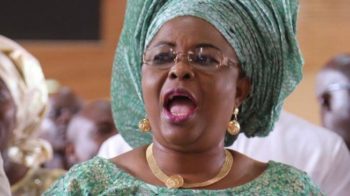 The continuation of hearing in a suit filed by a former first lady, Patience Jonathan, at a Federal High Court in Lagos challenging freezing orders on her account by EFCC was on Tuesday, stalled due to the absence of the trial judge.
The trial judge, Justice Mohammed Idris was said to be attending a workshop.
Patience had filed the suit in 2016, to challenge the 'No Debit Order' placed by the Economic and Financial Crimes Commission (EFCC) on four Skye Bank accounts harbouring a total of $15.5 million.
Joined as defendants in the suit are Skye Bank and a former aide to President Goodluck Jonathan, Waripamo-Owei Dudafa.
Also joined are four companies namely: Pluto Property and Investment Company Ltd; Seagate Property Development and Investment Company Ltd; Trans Ocean Property and Investment Company Ltd; and Avalon Global Property Development Ltd.
Though the accounts were said to be opened in the names of the four companies linked to Dudafa, Patience filed the suit, laying claims to the funds.
The case which was slated for hearing on Tuesday, could not proceed as planned, following the absence of the Judge.
At previous adjourned dates, witnesses had began giving evidence in the case.
The continuation of hearing has been fixed for June 19.