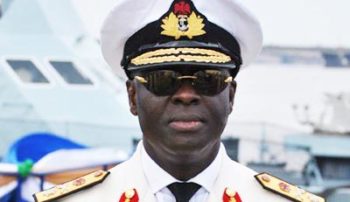 A Federal High Court in Lagos has ordered the temporary forfeiture of the sum of N1.8 billion allegedly diverted from the coffers of the Nigerian Navy by a former Chief of Naval Staff, retired Adm. Dele Ezeoba.
The court gave the forfeiture order following an application by the Economic and Financial Crimes Commission (EFCC) pursuant to Section 17 of the Advanced Fee Fraud Act 2006.
Joined in the suit as defendants are Chukwuka Onwuchekwa and Aquila Leasing Ltd.
Ezeoba headed the Navy between 2012 and 2014 under former President Goodluck Jonathan.
EFCC prosecutor, Rotimi Oyedepo said the money was traced to the account of Aquila Leasing Ltd, adding that Ezeoba had agreed in his statement to the EFCC to forfeit the money.
"The money is proceeds of crime fraudulently diverted from the Nigerian Navy under the leadership of Dele Joseph Ezeoba," he alleged.
He said Ezeoba used the name of "Chukwuka Onwuchekwa" to open a fraudulent account while laundering the money.
EFCC said the former Naval Chief stated in his statement that the account was opened with Onwuchekwa's consent while he (Ezeoba) managed it.
"Neither the signature nor the driver's licence used in opening the account was his (Ezeoba)."
The commission said in a "desperate bid" to further disguise and conceal the illicit source of the funds, Ezeoba entered into a Memorandum of Understanding to buy Aquila's shares from Onwucheka, who is the managing director.
The shares were worth N2. 4 billion out of which N1.8 billion has been recovered in drafts in favour of the Federal Government.
The lawyer said that the order of the court was required to forfeit the sum of N1.8 billion to the Federal Government of Nigeria as the sum "is reasonably suspected to be proceeds of an unlawful activity."
In granting the application, Justice Muslim Hassan directed the EFCC to notify the defendants in whose possession the money is to report in court and show cause within 14 days why the money should not be permanently forfeited to the Federal Government.
The case has been adjourned to March 29.