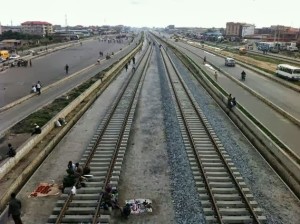 Ameri Metro Incorporation, a United States-based company, says it has the capacity to provide $10 billion to fund the construction of high-speed rails projects across Nigeria.
The company made this known on Monday while making a presentation to the Minister of Transportation, Rotimi Amaechi, at the headquarters of the Federal Ministry of Transportation in Abuja.
Officials of the company stated that they decided to show interest in the rail projects after it was confirmed that the Chinese group that was initially billed to handle them would not be able to deliver on the projects as planned.
The Founder, Ameri Metro Inc., Shah Mathias, said, "We are in the design process and our goal is to take this and build it. We are here to do the presentation for the high-speed rail.
"Our goal is to build the rail system in order for other industries to come. We will like to commence the project as soon as we are given the opportunity, and we will invest 100 percent of the project cost.
"We have been told that the project cost is over $10 billion and we are ready to deliver new railway, new locomotives, everything will be new."
Mathias added that Ameri would wish to commence with the Port Harcourt-Lagos-Calabar route, and that it was ready to take over the project from the Chinese firm.
"We are looking at the Port Harcourt-Lagos-Calabar route first because we heard that the Chinese have not been able to raise the money. We are possibly going to raise the money and take it over from the Chinese"
On whether Ameri would enter into partnership with the Chinese group to deliver on the project, Mathias said, "We are not partnering anybody at this point.
"We want to build the coastal rail for Nigeria and it is going to be high speed and not the standard gauge. We have the capacity and competence to do it. We have done it in the United States and we can do it here."
When asked what the response of the ministry to Ameri's proposal was, Mathias stated that "tentatively, there is prospect."