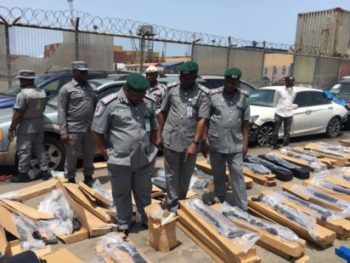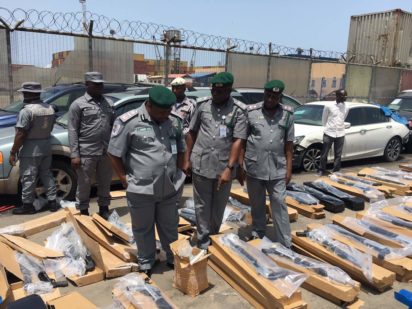 On May 23 this year, the Nigeria Customs Service (NCS) announced that it intercepted a container load of 440 pump action rifles imported from Turkey through the Tin Can Island Port in Lagos. The seizure came barely four months after the NCS intercepted 661 pieces of the same type of pump action rifles at Mile 2 area of Lagos, also imported through the port.
Stakeholders have variously raised alarm at the number of arms and ammunitions that come into the country through the waterways, the airport and the border, which has great implication on our security.
The latest seizure is one in the series of unlawful importation of arms into Nigeria, which has provoked a number of questions. Who are those behind unlawful importation of arms into Nigeria and what is their motive? Do they have any linkage with the killings, gunrunning, terrorism and internecine wars in the country? Are they sacred cows? Do they have links with highly placed government officials or politicians? How many of these weapons have passed through unnoticed? Has security intelligence failed woefully in tracking these deadly elements?
From available indices, criminals have amassed considerable space and the security agencies appear helpless. Politicians, who want to win elections by all foul means, equip hoodlums. The gangsters then turn the weapons on innocent citizens after every election cycle. The trajectory has been horrifying.
In 2010, the Department of State Services (DSS) intercepted 13 containers of weapons from Iran. Enclosed in the consignment were rocket launchers, hand grenades and other explosives criminally labeled as "building materials.
In 2013, security operatives uncovered a cache of weapons linked to a Lebanese Hezbollah terror cell in Kano State. The bunker contained 17 AK-47 rifles, 44 magazines, four land mines, 12 RPG bombs, 11 66mm anti-tank weapons, one SMG, one pistol and magazine, 76 hand grenades, rocket propelled guns, 122 calibre artillery and 433 rounds of 7.26mm special. This discovery was unsettling.
Deadly weapons in the hands of blood thirsty Boko Haram terrorists, Niger Delta militants, and other non-state actors are also unnerving.
The United Nations Regional Centre for Peace said there were 350 million Small and Light Weapons (SALWs) in Nigeria or 70 per cent of the 500 million SALWs in West Africa as of 2016. This explains the concerning level of violence hanging over the country.
Since guns cannot be owned without a license in Nigeria, there must be a national design to mop up the weapons in the hands of criminals and politicians. All guns mopped up should be destroyed to prevent criminals from gaining access to them again.
But the question is, when containers are impounded and suspects are paraded, what happens to them? Are they ever convicted? Are the suspects paraded as a form of officialese by Customs officials to show that the boys are working and therefore satisfy the curiosity of the anxious public? Is it another official posturing, in which at the end, the curtain is drawn with no one brought to justice? Are the real importers of these vexatious items ever arrested or prosecuted?
Arms importation cannot be done by the ordinary Nigerian on the street. It is an organised crime which must, as a matter of necessity, enjoy the backing of some rich and powerful persons. How is it that none of these rich and powerful individuals has ever been apprehended or brought to justice? How about the Customs officers that clear these goods from the port; are they ever brought to justice to serve as deterrent to other unpatriotic officers?
A situation where suspects are arrested and a lot of media hype is generated only for the matter to die two weeks after does not augur well for the system. It has also been observed that more often than not, the deadly contraband cargoes would exit the port before a "Customs roving team" intercepts them somewhere in the city.
Nigerians, who are the ultimate victims of illegal arms importation, deserve to see the syndicate behind the illegal importation of the 1,101 pump action rifles seized so far this year unmasked and brought to justice by the Nigerian government. This is the only way to give hapless and concerned citizens a sense of security.
There is also need for government to deploy technology to enhance checks and scrutiny at the airport, seaport and land borders to stem tide of infiltration of illegal weapons in the country.
Copyright Ships & Ports Ltd. Permission to use quotations from this article is granted subject to appropriate credit given to www.shipsandports.com.ng as the source.