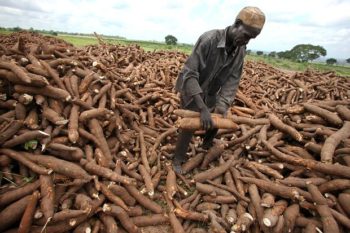 The Federal Government says it will assist cassava farmers and processors to create linkage markets to guarantee export and sale of cassava chips at the international market.
The Minister of Agriculture and Rural Development, Chief Audu Ogbeh, said this at an Agribusiness Supplier Development Programme (ASDP) meeting organised by the United Nations Development Programme (UNDP) in Ibadan on Tuesday.
Represented by  the Director, Planning and Policy Coordination in the ministry, Auwal Maidabino, Ogbeh said the linkage when actualised, would secure and inject more foreign exchange into the country.
The minister, who said that in 2012 the country secured and supplied 2.2 million tonnes of cassava chips to China, which earned it over 534 million dollars, expressed regret that the business was not sustained.
Ogbeh said the government would continue to provide improved yielding cassava stems, disease resistant varieties, access to finance and markets to improve the country's current market share.
He appealed to cassava farmers to improve cassava chips production and supply chain system to meet demands from other countries.
"In order to facilitate the attainment of this objective, we have put institutional framework in place to promote agribusiness and investments.
"We are working with donor agencies, financial institutions, and the organised Private Sector to build an agribusiness economy for food security, job creation and export for inclusive growth.
"In view of the potential that abound for export trade in cassava chips, I urge you to take advantage of this to focus on cassava chips production, standardisation and training to meet with market export requirement,'' he said.
An Agribusiness Specialist with the UNDP, Dr Nelson Abila,  said the meeting was aimed at bringing together stakeholders in the cassava value chain with a view to increasing productivity, expand profit gap and stimulate local economy along the chain.
According to him, the meeting is also to encourage and promote more participation in the cassava value chain.
Abila expressed concern over the dwindling market for the cassava produce at the international level.