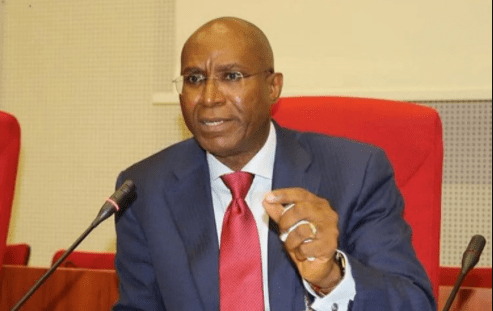 The Federal Government has warned not- for-profit organizations, Civil Society Organizations and businessmen against misuse and abuse of import duty waivers on charitable goods from foreign donors.
Deputy President of the Senate, Ovie Omo-Agege, gave the warning on Thursday at a stakeholders' consultation forum on the ease of shipping and clearing of charitable items in Lagos.
Represented by his Special Adviser on Non-Governmental Organizations (NGO) Affairs, Modupe, Ozolua; Omo-Agege said the abuse do not only affect Nigeria but the foreign donors whose consignments of charitable items come through Nigeria ports.
He said, "This is critical because as it seems, import waivers on charitable items have been misused and abused not just by businessmen but also by some non-governmental organizations and civil society organizations.
"Further, it is also evident that these anomalies do not only affect Nigeria but also some of our neighbors whose consignments of charitable items come through Nigerian ports."
The Deputy Senate President also expressed concern over the delay in the clearance of charitable items at the ports, especially when it comes to classifying the items for the purposes of waivers, rebates, exemptions and other privileges.
According to him, there is often the confusion at the point of clearing between charitable items and other categories of items, especially the commercial ones, as they all, sometimes, go through the same processes.
He said, "The result is that often, charitable items get entangled in high demurrage charges sometimes caused by delays in clearing due to denial of import duty waivers by relevant government ministries/agencies, late application of necessary documents by non-profit organizations, among others. These often cause undue loss of items and financial losses.
"It also extends to the denial of, sometimes life-saving relief materials to places they are needed, particularly disease-ravaged areas and Internally Displaced Persons (IDPs) settlements. And given the present IDP crisis Nigeria now faces, the material and humanitarian losses can only be imagined.
He stated the need for Civil Society Organizations and not-for-profit organizations to comply with necessary application processes and ensure charitable items are not used for commercial purposes but ensure they get to the targeted beneficiaries adding that a Standard Operating Procedure for clearance of charitable items at the port would be soon be developed.
Also speaking at the event, the Minister of Transportation, Rotimi Amaechi, said it was necessary to create awareness on the importance of aid materials to the national economy and the need to improve on the processes and procedures for the shipping and clearance of such materials at the Nigerian ports.
Amaechi who was represented at the event by the Director, Inland Container Services in the Ministry, Victor Ewate, said, "We are equally aware that these aid items enjoy waivers, however, experience has revealed that the process of obtaining duty waiver on these items takes time and such delay do translate to accumulated demurrage charges on these aid materials.
"This sensitization seminar will afford stakehokders the opportunity to brainstorm on how to improve the processes and procedures of shipping and clearing imported aid material into Nigeria."
Executive Secretary, NSC, Hassan Bello urged the National Assembly to make laws and regulations that would guide the ease of shipping and clearance of charitable items at the port.