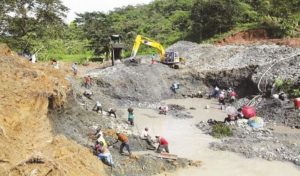 The Federal Government on Wednesday said it will offer a N12.7 billion ($41.6 million) mining contract to eight companies in exploration and consultancy.
The Minister of State for Solid Minerals, Abubakar Bwari, who disclosed this to State House correspondents after the Federal Executive Council meeting in Abuja, said both foreign and local firms were encouraged to participate.
He said, "Today the Federal Executive Council approved the contract for exploration and consultancy on some of our targeted minerals – like gold, industrial minerals, earth metals, iron ore – for four companies in exploration and four companies in consultancy."
Bwari said the exploration and consultancy work would result in data that would encourage potential mining firms to invest in Nigeria.
"Our major challenge is the bankable data, most mining companies will not want to come into your country when they are not sure of what they are going to meet," he said.
Nigeria's economy, one of Africa's largest, has been built largely on its rich crude oil reserves, leaving other sectors to stagnate.
In an attempt to diversify, President Muhammadu Buhari's administration is now seeking to build up other sectors, including mining, though results have been mixed, according to economic data.
Agency Report