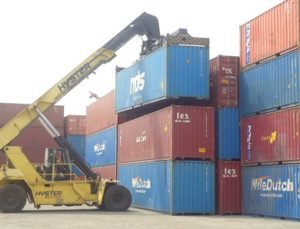 The Federal Executive Council (FEC) has approved N3 billion for the Ikorodu lighter terminal project.
Minister of Transportation, Rotimi Amaechi announced this at the end of FEC meeting at the Presidential Villa, Abuja.
The N3 billion for rehabilitation of the lighter terminal, he said, will aid the purchase of patrol boats for security.
He added that the council approved $500 million for purchase of locomotives for completion of Lagos-Ibadan and Itakpe and Warri rail projects.
On when the coaches will be delivered, the minister said, "We just awarded the contract today and you are talking about expectation. All I can tell you is that they will be available on the completion of the construction of the rail tracks and we are aiming to complete construction 2018 December.
"It is a big risk that I am taking by insisting it must be completed by 2018 December. I have said it to the public, the contract is actually for three years but we think they should complete it in 2018 December.
"Reason, in China, they do a thousand kilometres per year. So, why can't they do one hundred and eighty something kilometres in one year six months in Nigeria. So, before they complete in December, we will have the coaches, wagons, locomotives and spares for maintenance."
He said the contractors are Original Equipment Manufacturers (OEM) named Dalian, which is a Chinese company, and CCECC Contractor.
He cautioned that the railway projects should not be politicised but should be seen as an economic driver.
"It drives even oil because if you import fuel, liquid cargo, we transport by rail.
"The railway project in Warri was 34 years ago and it starts from Itakpe and it hasn't even gotten to Warri town. It stops at Aladja. So, we should be carrying placards. We must stick Nigeria first, that is what we should do and stop putting unnecessary pressure based on our ethnic sentiments.
"Let's deal with the issues as they come, whether you are from North or from South or from East or West or anywhere, let's deal with the issues as they come.
"Now we are currently negotiating with so many contractors on the best terms for the loans, that is what we are doing, if we get the right loan terms that the country can take, we will go back to cabinet and ask for approval, that is what we are doing.
"If you come to the Ministry of Transport, you will see that everyday I am meeting with the Chinese because that appears to be the only place where they have funds.
"I will go back to touch things you may not like, which I have said several times. Under Obasanjo, he saved between $65-68 billion, not even in foreign reserve, Excess Crude Account and we require about $36 billion to complete all these rail works in all the state capitals.
"All of us seated here are journalists, when Obasanjo was President, Obasanjo left that money and President Goodluck Jonathan became President and that money was in that account. So, why couldn't we have spent $36 billion building rails all over the country?
"You didn't ask President Goodluck Jonathan that question, nobody asked. I was a governor then. There was no agitation for rail, there was no construction going on. Instead of using that money, we borrowed $500 million to construct Kaduna/Abuja.
"So, I will please plead with everybody to be patient with this government and be patient with my ministry, let us find money because there is no money."
The Senior Special Assistant on Media and publicity, Garba Shehu, said the FEC approved security measures for University of Maiduguri, Borno State.
Stressing that a new draft bill on mining will soon be forwarded to the National Assembly, he said that some contracts were awarded for Zaria, Gusau and Sokoto road.