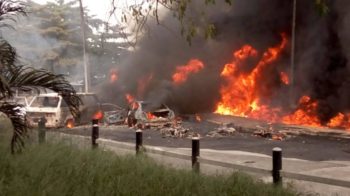 By Oluwatoyin Amao 
No fewer than 20 vehicles were burnt when a tanker laden with petrol fell and spilled its content on the Festac Link Bridge in Awuwo Odofin area of Lagos State on Wednesday. Another tanker carrying petrol was also engulfed by fire at a Conoil filling station, along the airport road in Abuja in the evening.
As at 7:00 p.m., fire service officials were still trying to put out the fire on the truck in Abuja.
Witnesses said the fire started at about 6:00 p.m. One of the fire service officials, Gidado Ismail, said there were about six fire vehicles trying to put out the fire.  
The tanker fire in Festac, however, started at noon and raged for about an hour.
Fire fighters arrived at the scene about 30 minutes later but did not have enough water to put out the fire.
An eyewitness, Olufemi Popoola, told newsmen that the tanker, coming from Apple Junction and going to FESTAC Town, was ascending the bridge but suddenly rolled back and fell.
The impact of the fall separated the tank from the truck's body, resulting in an explosion, according to Popoola.
He said some residents and passers-by attacked the fire with buckets of water to no avail.
Popoola, who lives in FESTAC, said the fire from the tanker spilled over to nearby vehicles, forcing their occupants to run, abandoning them.
"The fire then spilled into a car shop on the foot of the bridge, burning some of the cars, while the attendants quickly drove out some.
"Furniture items, bags and boxes displayed for sale on the foot of the bridge were all burnt,'' he disclosed.
The fire caused gridlock on the bridge and in the adjoining roads.
A crowd of affected persons and sympathisers gathered at the scene to lament the situation.
It was not clear at the time of the report whether any life was lost to the fire.    
Copyright Ships & Ports Ltd. Permission to use quotations from this article is granted subject to appropriate credit given to www.shipsandports.com.ng as the source.