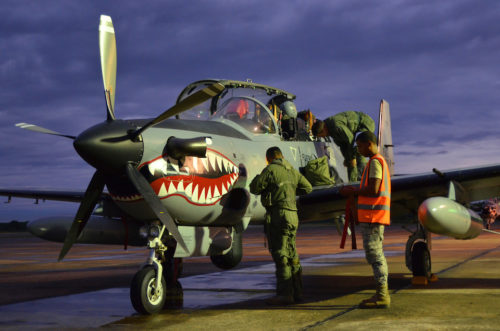 The Federal Government has ordered 12 A-29 Super Tucano military aircraft from Embraer SA and partner firm Sierra Nevada Corporation (SNC) on behalf of the Nigerian Air Force, a securities filing showed on Wednesday.
The Embraer A-29 Super Tucano is a turboprop light attack plane in service with countries across the world.
The aircraft is designed for counter-insurgency operations and close-air support in areas lacking significant air defences and also widely used as a training aircraft.
Embraer in the filing explained that the customer will use the aeroplanes in tactical operations.
The planes will be manufactured by Embraer in Jacksonville, Florida, and customized by Sierra Nevada at its Centennial plant in Colorado.
President Muhammadu Buhari had in April approved the withdrawal of the sum of $496 million from the Excess Crude Account (ECA) for the purchase of 12 Super Tucano aircraft from the United States.