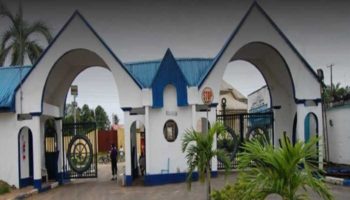 The Federal Government has approved the promotion of 378 Staff of the Maritime Academy of Nigeria (MAN), Oron, Akwa Ibom State.
The promotion was contained in a statement Wednesday signed by the head, Corporate Affairs of MAN,  Siddi Mkpandiok.
He explained that the promotion was the result of the Junior, Senior and Management Staff interviews which took place in the main campus of the Academy late last year.
According to Mkpandiok, out of the total number of staff promoted, 157 are junior staff, while the senior and management staff drawn from both the Academic and Administration arms is 221.
Among them are three Chief Lecturers: Maurice Ijeoma, Innocent Ezeala, Dr. John Adeyanju; four Directors: Siddi Mkpandiok, Corporate Affairs,  Emmanuel Essien, Personnel Affairs,  Sunday Udoh, Finance and Account;  Okon Okon, Finance and Account.
Four others got promoted to the rank of Assistant Chief Lecturer and they include;  Atim Ikara,  Ekwere William,  Olaoluwa Omotosho,  Angela Udofe and an Assistant Chief Librarian,  Effiong Okon.
Two Staff each were also promoted to the rank of Deputy Registrar and Deputy Director. They are: Peter Netson and  Ishiola Yusuf, and  Theresa Anya and Babawale Ogunsola respectively.
He said: "When the Minister of Transportation,  Rotimi Amaechi directed the Permanent Secretary in charge of the Ministry, Alhaji Sabiu Zakari and four Directors in the Ministry to personally supervise the interview which held in December last year was comprehensible apprehension on the part of staff, being the first time, in the life of the Academy, that the Ministry was directly physically supervising promotion interview in the institution.
"Today, the staff are happier for reasons of greater authenticity, work satisfaction and rewarding motivation, and remain grateful to the Honourable Minister, the Permanent Secretary, and all the Directors and Staffers of the Ministry who worked tirelessly to ensure this success of the exercise."