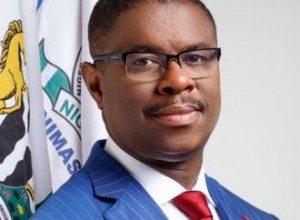 Director General of the Nigeria Maritime Administration and Safety Agency (NIMASA), Dr. Dakuku Peterside, has said that the Association of African Maritime Administration (AAMA), Conference, which kicks off in Abuja today, will help the continent collectively fight the issue of maritime security and piracy.
The conference which would be declared open by President Muhammadu Buhari, will see 33 African countries and other global maritime bodies coming together in Nigeria to look at the challenges and opportunities for the continent in the maritime industry.
The NIMASA boss said that without safety and security in the maritime domain the continent cannot achieve the desired development using the enormous potentials of maritime.
According to Dakuku, the heads of governments in Africa have since recognised this and that is why they endorsed the African Integrated Maritime Strategy (AIMS), 2050 which is how Africans, working with their brothers, can tackle the issue of maritime security and make sure that maritime is at the centre of economic development of Africa.
He said, "In October last year, all heads of governments came together and signed the Lome charter on African Maritime Security, Safety and Development in realisation of the fact that maritime should be the driver of economic development in Africa.
So all of these put together is a germane reason why it is important that those who operationalise these charters signed by heads of governments must sit together and agree on how to regulate and enforce the rules."
On the value of the conference to Nigeria, Peterside said, "Nigeria is bidding for a seat of the International Maritime Organisation (IMO), Council where decisions are being made, and I believe that at the end of this conference we will enjoin the support of our brother nations in Africa so that Nigeria could be a voice for the African continent.
We are not just going to represent Nigeria in the Council, we are going to represent the African continent and we are going to be a voice for Africa, a strong one at that. We are going to work with the rest of the world as partners and not subservient. We are going to be equal contributors."
He explained that increased interest in growing the maritime industry and need to evolve a stronger economy by boosting non-oil revenue sources was a major part of the government's economic policy thrust, hence the Federal Government's huge interest in encouraging greater cooperation among African nation to enable them make the best of the opportunity.