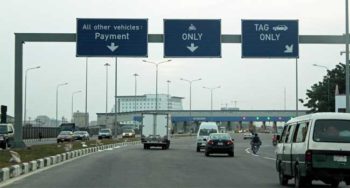 By Patience Danjuma 
The Minister of Power, Works and Housing, Babatunde Fashola, has said that the Federal Government has concluded the plan to reintroduce tollgates on various highways across the country.
He said this on Thursday while speaking at an interactive session with the Senate Committee on the Federal Roads Maintenance Agency (FERMA).
Fashola said the tollgates would be reintroduced in 38 points across the roads.
He added that the tollgates would be brought back after the completion of the highways.
"We have concluded plans to reintroduce tollgates across the country," Fashola said.
"It will be managed by the private sector and it will be located in the old places – 38 points across the country.
"We are only waiting for the completion of those roads before we introduce the toll gates," he said. 
Fashola said road users would be able to pay for toll on the roads through their phones, and that the money realised would be used for the maintenance of the roads.
He also said that the Federal Government does not intend to ask road users "to pay toll on a road that is not good". 
"While the construction (of gates) is going on, we are working on the design. We want to standardise the design so that people when we ask people to come and bid for the construction, we can control what they are going to construct," he said.
"They are going to construct the materials we have prescribed. We can also control the price so that nobody is bidding with disparage prices; there will be the floor and the ceiling. Your price will vary according to how many plazas you build and not because you claim to have used foreign materials.
"The last part we are working on is the software that drives the management, audit, and payment of toll fares."    
Copyright Ships & Ports Ltd. Permission to use quotations from this article is granted subject to appropriate credit given to www.shipsandports.com.ng as the source.