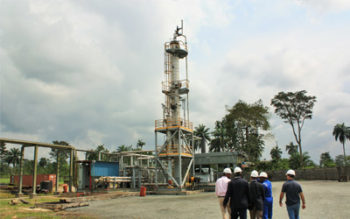 The Federal Government has reiterated its commitment to establishing modular refineries in the country to boost local production of petroleum products.
The Senior Special Assistant (SSA) to the Vice President on Niger Delta, Edobor Iyamu, gave the assurance on Wednesday during a facility inspection of OPAC Refinery in Kwale, Ndokwa East Local Government of Delta State.
The modular refinery under construction is expected to begin with the production of diesel and kerosene at an operating capacity of 7,000 barrel per day when it commences operation later in the year according to the investor.
Iyamu said, "Sometime ago, we made a promise as a government to the Niger Delta region that we are going to introduce modular refinery for two reasons. As a way of substituting the activities of the illegal refineries and to also increase our local production.
"What we see here is quite impressive; a lot of work is going on and hopefully before the end of the year, this project would have come on stream and that will be good for our country.
"We are excited as a government; we made the promises. This is again another promise that is about to be kept in terms of completion.
"So, those who are interested in setting up modular refineries, they should believe what the government is doing and invest in it."
The Senior Technical Adviser to the Minister of Petroleum Resources in charge of Refining and Downstream Infrastructure, Rabiu Suleiman, explained that the visit was to enable them to evaluate the extent of construction work and also support the investor.
Suleiman said that about 38 investors were granted operating licences to establish modular refineries ranging from 50,000 to 250,000 barrels per day production capacity, but 10 had secured the "permit to construct".
He said, "We are here to provide support as government, evaluate what the entrepreneur is doing in alignment with the vision of the government and to see how we can encourage local production.
"We want to know if the 7,000 barrel capacity can support the government from the extra money going into importation of petroleum products and support the investors so that we can be self-subsistence in terms of production.
"Another one under construction is almost at similar stage with the OPAC, so we are looking forward towards commissioning two modular refineries in the next five or six months.
"There is never enough in terms of refineries, our vision is to ensure that all our crude oil is refined in Nigeria and exported so there is a good margin in modular refinery business."
The Chairman of OPAC Refinery, Momoh Oyarekhua, said that the target of the company was 60,000 barrel per day capacity, adding that the construction work would be carried out in phases to achieve the target.
According to him, the investment will provide between 50 and 100 direct jobs.
"At this construction stage, we have over 100 local staff and 18 expatriates, so at post construction, we are looking forward to employing between 50 and 100 staff aside auxiliary staff," Oyarekhua said.