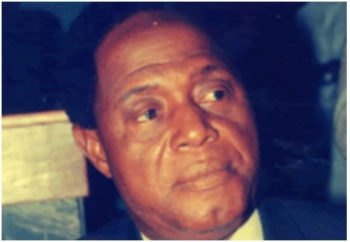 A former foreign affairs minister, Mathew Mbu, has narrated in his autobiography how the Nigerian government refurbished an old ship with £18 million. 
He stated in the book titled, Mbu: Dignity in Service, that he bought the ship on behalf of the country for £2.8 million, and expressed surprise that the Ministry of Defence officials allegedly sent the vessel for refitting at a whopping sum of £18 million, shortly after he left the ministry.
The ex-minister, who died on February 6, 2012, had left the manuscript of his autobiography, which the family published in his honour.
The son of the late diplomat, Mathew Mbu Jr., told journalists on Thursday that the book would be launched posthumously on April 10, 2018 at the Shehu Yar'Adua Centre, Abuja.
In the book, the author explained how he fought corruption by serving with dignity, noting that the then Minister of Defence, Alhaji Muhammad Ribadu, approved £6.5 million for the flagship, which he (Mbu) purchased for the Nigerian Navy for £2.8m, thus saving the nation £3.7 million.
In addition to the ship, Mbu disclosed that the then Netherland Minister of Defence, Piet de Jong, who was his friend, also made a present of two ships to Nigeria as his country's contribution to the Nigerian Navy.
"MT Mbu did not only come back with a flagship befitting the NN for £2.8 million and saved £3.7 million, but had a deal to pay back the £2.8 million in 10 years interest-free.
"The story of Mbu tells us how to stop kickback and start kicking forward. Unfortunately, and it was a sad moment for Mbu when he left the ministry and one of those ships was sent for refitting at the cost of £18 million," Mbu Jr. stated.
The deceased, in the autobiography, advised the government to focus on free and fair election, security and anti-corruption fight, noting that if these were achieved, "Nigerians in their ingenuity will fashion out the rest in no time."
The former minister criticised the investment in Tinapa Resort by the Donald Duke administration in Cross River State, describing it as a non-viable project.
"Politically, it was myopic at conception; why should the resources of a state be frozen for decades? What about the cost of maintaining a non-viable project?" the former ambassador queried. 
Copyright Ships & Ports Ltd. Permission to use quotations from this article is granted subject to appropriate credit given to www.shipsandports.com.ng as the source.