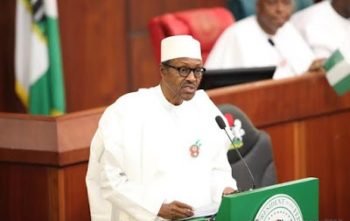 President Muhammad Buhari on Wednesday presented the 2017 proposed bugger to the joint sitting of the National Assembly and benchmarked the budget at N305 per dollar, as against N197 to the greenback budgeted in 2016.
The N7.298 trillion budget also sets a benchmark of $42.5 per barrel of oil, as against $38 in 2016.
The budget, which is 20.4 percent bigger than that of 2016, has earmarked 30.7 percent for capital expenditure "to pull the economy out of recession".
Again, the Ministry of Power, Works and Housing has the lion share of the budget, at N520 billion for capital projects.
The amnesty programme, which was slashed to N20bn in 2016, leading to unrest in the Niger Delta, has been tripled in the 2017 budget.
"The allocation of the presidential amnesty programme has been increased to N65 billion in 2017 budget. Furthermore, N45 billion in funding has been provisioned in funding for the rehabilitation of the northeast," Buhari said.
Buhari said the school feeding programme has commenced in a few states, and the verification of caterers is still ongoing in some states of the federation.
The Ministry of Agriculture is  also getting a record-high of N92 billion, while the ministry of interior will boast of a capital expenditure allocation N63 billion.
He commended the national assembly for its commitment to steering the country from recession to sustainable growth, while focusing on using local labour and local raw materials.
Copyright Ships & Ports Ltd. Permission to use quotations from this article is granted subject to appropriate credit given to www.shipsandports.com.ng as the source.