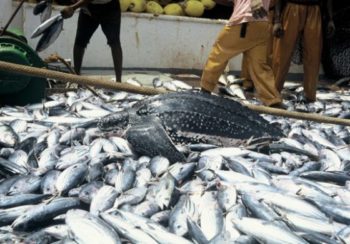 The Federal Government says it will stop issuing fish importation quota to importers, saying that the venture was no longer sustainable.
The Minister of State for Agriculture and Rural Development, Sen. Heineken Lokpobiri, said this during a meeting with the Ijebu Development Initiative on Poverty Reduction (IDIPR) in Abuja on Tuesday.
He said that stopping the trade would help boost local production of fish and other aspects of agriculture in the country.
According to him, the current deficit in fish in Nigeria is over two million tonnes and urged citizens to invest to boost fish production and create jobs in the sector.
"We realised that fish import is no more sustainable and what we did was to encourage those that import it to think of the backward integration by reducing the quota year by year in agreement with the CBN.
"Very soon, we are not going to give quota for fish importation. We want everybody to set up their fish farms, employ our people and create jobs for our people.
"When we came last two years, Nigeria was producing about 700,000 tonnes of fish but this has increased to about 1.2 million tonnes which means that there has been an increment of 400 tonnes.
"This increase represents more than 50 per cent of what we were producing,'' he said.
Lokpobiri, who commended the IDIPR for contributing to fish production in the country, advised other states to emulate the community's agricultural initiative.
He said the government would soon complete and commission the fish feed mill located at Eriwe village farm in Ijebu community of Ogun.