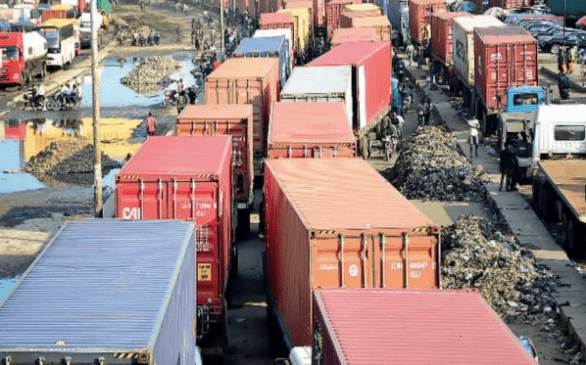 The Federal Government is considering the possibility of linking the Tin Can Island Port, Lagos to the national rail line, SHIPS & PORTS can authoritatively report.
At present, the port, which is Nigeria's second busiest seaport, does not have a rail connection.
Cargo evacuation from the port has mostly been by road, while a few containers and imported vehicles are moved through the waterways by barges.
Recently, however, evacuation of cargo from the port has been hampered due to severe gridlock on the port access road. The gridlock is caused by poor road condition and massive extortion of truck drivers by security officials deployed to manage traffic on the port access road.
The Permanent Secretary, Federal Ministry of Transportation, Magdalene Ajani, who recently attributed the port access road gridlock to "gross indiscipline", said government was determined to reduce the number of trucks on the port access roads.
During a meeting with port stakeholders in Lagos recently, Ajani said, "We have extended the rail from Ebute-Metta to Apapa because we want to really solve this problem henceforth, and that construction is ongoing. We are also looking at the possibility of extending from Apapa to Tin Can, so that most of these containers will get hooked on the rail at least straight to Ibadan dry port.
"Ibadan dry port is already ongoing. We've had some discussions with Ogun State to say maybe we could put another dry port in Abeokuta. But these are things that people have to come in and do. Government can't do everything. It is either the state or private investors that will need to do those ones."
Tin Can Island Port was commissioned in 1977 by the administration of then military Head of State, General Olusegun Obasanjo. The construction of the port began in 1973 under the administration of General Yakubu Gowon.
However, unlike the Apapa port and other seaports built during the colonial era, Tin Can Island Port was not linked to the rail line thereby concentrating cargo movement to/from the port entirely on the road.