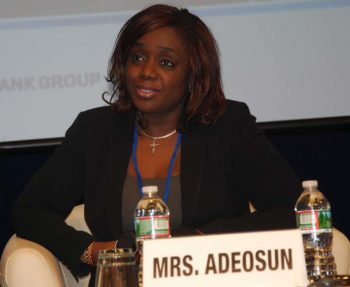 The Minister of Finance, Kemi Adeosun, has said the Federal Government will reform the state oil company, Nigeria National Petroleum Corporation (NNPC), to ensure that all revenues earned are accounted for.
The minister made this known at a joint news conference with Central Bank of Nigeria (CBN) Governor, Godwin Emefiele, at the end of the 2018 International Monetary Fund/World Bank Spring Meetings in Washington D.C.
Adeosun said the Federal Government's priority was to ensure that all earned revenues get into government coffers and were better managed.
She said, "Government will continue to efficiently and effectively manage costs and plug leakages. We must make sure that every money that is earned comes in. We will drive the process of improving governance."
The reforms of state-owned enterprises, she said, would boost the country's fiscal buffers, which will lead to a rise in the Excess Crude Account (ECA).
Adeosun said the ECA was expected to rise now that crude oil prices have risen.
She said, "Now that we have $72/per barrel oil price and $45/per barrel oil benchmark, we must begin to see ECA accumulation and to do that, we have to focus on the cost of state-owned enterprises. If every time the price of oil goes up, and the cost goes up, then there is no net gain."
Adesoun said her ministry would work closely with the NNPC.
She said, "We are having a team from the NNPC coming in on Monday (today) and we have meetings with technology providers who will help us control some of those costs. We have to look into state-owned enterprises and look at their costs very, very closely. As Chairman of the Federal Account Allocation Committee (FAAC), and on behalf of their owners and NNPC, we are going to be strengthening their governance.
"The NNPC is working very closely with us; we are going to look at the numbers together. If we are not happy with the numbers, we ask more questions. I think in the past, NNPC simply presented figures; now, we are questioning those figures. It is very important to us to take advantage of this period to really rebuild our buffers."
Adeosun and Emefiele said the country's positive growth outlook would be sustained.