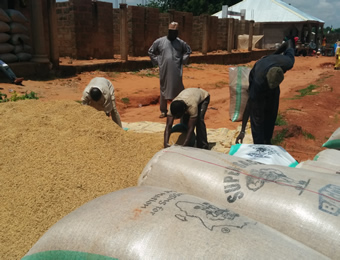 A former Comptroller of Customs, Olu Ogunojemite has advised the Federal Government to improve on rice production and ensure its sufficiency to combat rice smuggling in the country.
Ogunojemite who was reacting to the federal government approval of 50 operational anti-rice smuggling vehicles for Customs operatives recently to check the persistent smuggling of rice into the country, said if right policies are put in place, importation of rice will gradually reduce and customs will have fewer smugglers to pursue.
He said, "If we are serious about our agricultural policy, and we are saying the truth about production of rice, importation of rice will die a gradual death in this country.  Government should intensify its effort in the production of rice in the country. Let it be real.
"But as long as the market is available for imported rice, smuggling will continue. Let them police all the borders of Nigeria, I am sure rice will still be smuggled into the country.
"If they buy vehicles for customs to combat smuggling, it is good but what is the statistics that say that the more vehicles we buy for customs, the more better their anti smuggling activities will be?
"I remembered that during the former administration, a lot of vehicles were bought for customs, what has happened to those vehicles? What was the rate of success in anti smuggling using that particular method?
"Let them take the example from textile, it is not all imported textile that are out of prohibition, the federal government is getting revenue from textile now but for more than 18 years, no revenue was gotten from textile in this country, yet for those 18 years, no body wore Nigeria made textile. So we need to look at our policies first, before we talk about smuggling.
"We like to throw money at challenge as if money we solve that problem. Money does not solve people's problem, the use of money is what solve problem not the money itself. If you use your money foolishly, you will not solve any problem, if you use it wisely, you will get solution. So it is not the money that is solving your problem but the use to which you put your money.
"Discouraging smuggling depends on compliance. When people become compliant and do the right thing, we will not be talking about smuggling any longer. But if people are adamant to smuggling, there is little you can do about it."
The retired customs comptroller, who spoke in a chat with SHIPS & PORTS DAILY, also picked hole in the federal government's palletization policy describing it as "a lazy approach to solving problems".
"In Nigeria, we always apply a lazy way to solve our problems. This is not in terms of strength but mental alertness. For example, when we talk about issue of palletization, they say it will help customs do better examination but to me that is a lazy approach to issues because it can never in any way enhance examination. It will rather create more problems. The palletization at the end of the day will achieve nothing," he said.