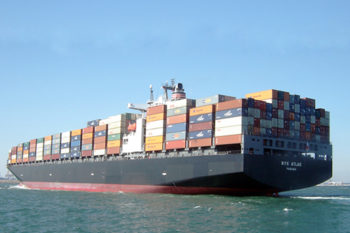 By Jite Eriabie  
Global schedule reliability of container lines deteriorated by 8.4 percentage points to 74.5% in 2017, down from 82.9% in 2016, according to SeaIntel Maritime Analysis.
The container shipping industry market intelligence provider added that Wan Hai was the most reliable carrier in 2017, with schedule reliability of 81.0%. Hamburg Süd and Evergreen followed close behind with on-time performance of 79.7% and 79.1%, respectively.
The poor performance was across the board, with none of the top 18 carriers improving on their 2016 schedule reliability scores. Among these, Evergreen and Hyundai Merchant Marine (HMM) recorded the lowest decreases of 4.7 and 5.0 percentage points, respectively.
At the other end of the performance spectrum however, Mitsui OSK Lines (MOL), Pacific International Lines (PIL), and Yang Ming recorded the largest year-on-year declines at 12.7, 11.2, and 10.2 percentage points, respectively.
Commenting on the data, SeaIntel partner and ceo Alan Murphy said: "In general terms, we can say that the reshuffling of networks with the launch of the new alliances in April 2017 likely had a negative impact on schedule reliability, as major adjustments to networks will almost invariably impact the on-time performance of lines."
Both Yang Ming and MOL became part of THE Alliance, transitioning from the previous CKYHE and G6 alliances respectively. The latter went through yet further changes later in the year with the announcement of the three main Japanese lines, of which it is one, forming the ONE grouping. PIL meanwhile maintained its "alliance neutral" philosophy, collaborating with other mainly North Asian carriers on the various trades.
Among the major East/West trade lanes, Asia-North America East Coast saw the biggest slide in on-time performance, slipping to 66.3% from 80.4% in 2016. Evergreen was the most reliable carrier on this trade lane in 2017, with schedule reliability of 72.3%, followed by Maersk Line and MSC with 70.5%.
SeaIntel said Asia to North America West Coast saw a 9.3 percentage point drop in schedule reliability to 72.1% in 2017. Among the lines in this trade, Matson was the most reliable carrier with on-time performance of 93.3%, followed by Evergreen with 81.0%.
Asia-Med schedules also saw a big drop in reliability, falling 9.3 percentage points to 74.6%, SeaIntel noted. Asia to North Europe slid slightly to 76.4%, falling 3 percentage points.
Among the carriers on these lanes, Evergreen was the most reliable carrier on Asia to North Europe with on-time performance of 82.6%, followed by Cosco with 82.5%. Interestingly Maersk unit Safmarine was the most reliable carrier on Asia-Med, with outstanding on-time performance of 95.5%, followed by Evergreen with 79.8%.
Schedules on both the Translatlantic trades ended up in a shambles, seeing drops in on-time performance of larger than 10.0 percentage points, with Transatlantic Westbound declining by 10.5 percentage points to 67.4%, and Transatlantic Eastbound decreasing by 10.6 percentage points to 70.2% in 2017.
SeaIntel highlighted the fact that niche carriers ICL and Marfret had the highest schedule reliability on the Transatlantic Westbound and Eastbound trade lanes, respectively, recording on-time scores of 97.5% and 98.7%, respectively.
Murphy noted that "we have also found schedule reliability to be negatively correlated with bunker oil prices, which implies that as bunker prices increase, schedule recovery becomes more expensive for the lines".  
Copyright Ships & Ports Ltd. Permission to use quotations from this article is granted subject to appropriate credit given to www.shipsandports.com.ng as the source.