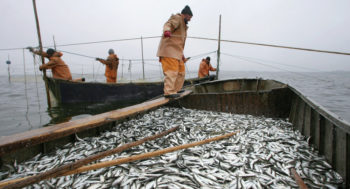 Without controversy, Africa's ocean and seas have been subjected to unnecessary pressure and pillaging by foreign vessels and fishermen that rummage the environment uninhibited, carting away precious aquatic habitats. While these foreigners smile to the bank with their catch, Africans are left in a quandary, in hunger, malnutrition and acute poverty, looking elsewhere for aid while the heavens wonder in amazement.
Last month in Abuja at a maritime conference, the issue received concerted attention and it was agreed by delegates from over 34 countries that the time has come for the continent to rise up in unity against foreign exploitation of its resources which leads to a loss over 20 billion Euros worth of revenue yearly.
Africa is not the only country facing this challenge. The United States of America surprisingly complains about this threat on its waters forcing it to enact the Illegal, Unreported, and Unregulated (IUU) Fishing Enforcement Act of 2015.
The US House of Representatives Committee on Natural made crucial moves to keep illegal fish out of the country's market.  The committee voted unanimously to advance the Act, which contains vital implementing legislation for the Port State Measures Agreement (PMSA).
The Port State Measures Agreement (PSMA) is part of a larger international effort to close the world's ports to foreign vessels that engage in illegal, unreported and unregulated fishing to prevent black market seafood products from entering the legal seafood trade. In order for the agreement to take effect, 25 countries had to ratify it.
The livelihoods and nutrition of millions of people in Africa are being put at risk by foreign fishing fleets in their waters. Yet West Africa suffers proportionally from more illegal fishing than any other region of the world. Up to a quarter of jobs in the region are linked to fisheries, which is part of a vast intra-regional trading network in which women play a central role.
Rising global demand for fish has made African waters a magnet for fleets from around the world. European trawlers remain the primary foreign presence, but fleets from China, the Philippines, Russia, South Korea and Taiwan have also made incursion into the region in recent years.
Every year, the sub region loses over $2 billion fish to illegal fishing. Apart from draining the region of revenue, overfishing reduces fish stocks, lowers local catches and harms the marine environment. It destroys communities, who lose opportunities to catch, process and trade fish. The people have continually remained at a loss watching helplessly while their ecosystem is ravaged recklessly.
The developed countries obviously have done a better job of exploiting these resources. Africa needs to do much more to use these God-given resources to feed its people, fight poverty and develop efficient ports and effectively administer the waters of the seas. The continent can create high paying jobs for its teeming youths, develop an efficient transportation system, exploit efficiently the oil and gas resources and other minerals contained in the deep seas and oceans of Africa.
Nigeria unarguably is a potentially major maritime power considering the depth and breadth of its Exclusive Economic Zone and territorial waters, and can do even more to efficiently and effectively make sustainable use of the oceans and seas.
There appears to be a general agreement that Africa must tighten the legal and regulatory framework to stop these losses and intensify efforts to promote intra- Africa trade in fisheries.
Also as a maritime nation, Nigeria has a responsibility together with other nations and international organisations, like the International Maritime Organisation (IMO) to make our waters safe and secure.
The Speaker of the House of Representatives, Yakubu Dogara explained in Abuja that in an attempt to make the waters safe, Nigeria had been active in maritime related legislations over the years. Dogara said the National Assembly has domesticated twelve important maritime safety and security conventions of IMO, which are necessary for safeguarding security and safety in the West and Central African sub-region.
This is heartwarming but not enough. The fight can only be won at the pan-African level and this is what we advocate. The silver lining however is that these issues are now where they should be, at the top of the international political agenda at the United Nations. Africa must exploit this to liberate itself.
Copyright Ships & Ports Ltd. Permission to use quotations from this article is granted subject to appropriate credit given to www.shipsandports.com.ng as the source.