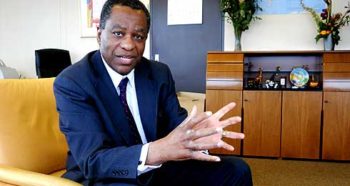 The Ambassador of Finland to Nigeria, Pirjo Suomela-Chowdhury, has called for more trade relations and business exchanges between Nigeria and Finland.
Speaking during the 16th Meeting of Nordic and African Foreign Ministers in Abuja, over the weekend, Suomela-Chowdhury said the meeting gave a unique opportunity at high level to discuss important issues linked to trade, investment, peace and development.
She added that trade promotion was her main focus in Nigeria.
"Last year we had a very successful visit to Nigeria by our Deputy Minister for External Economic Relations, with a business delegation, and I am looking forward to more exchanges and increased trade between our countries," she said.
"There are many more win-win opportunities, and mutually beneficial trade relations can go a long way in promoting sustainable development, and a better life for Africans as well as the Nordics."
The meeting, hosted this year by Nigeria, focused on the theme of "Ensuring Sustainable Development through Trade and Investment: The Africa-Nordic Engagement."
A visit by Minister Anne Berber from Finland to Nigeria to participate in the meeting also focused on trade and investment between the Nordic and African countries.
Berner stressed the crucial role of the private sector in promoting sustainable development, and the many complementary roles between Nordic and African countries.
"Africa is a continent of vast natural resources and human capital, and potentially enormous markets," she said.
"The mere presence of Nordic and other companies in Africa is a testimony to that potential."
The Finnish minister noted that education was an important factor contributing to economic growth, and an area where Nordic partners had added value.
"In Finland, we believe that the key to our economic success has been in ensuring high-quality education for all," said  Berner.
"What is very clear is that girls' education makes economic sense, in addition to being just and fair. Investment in women boosts economic development, competitiveness, job creation and GDP. No economy can afford to ignore such a huge potential."
The Finnish minister also spoke about the strong Nordic-African relations, adding that what started as traditional development cooperation with a few countries had developed into something much more.
"Today, with ever greater interdependence between Europe and Africa, we in the Nordic countries are expanding our partnership with African countries."
Berber said the prime ministers of the five Nordic countries recently launched the 'Nordic Solutions to Global Challenges,' an initiative aimed innovative Nordic solutions for carbon-neutral development, sustainable cities, food and welfare, and gender equality.
Along with meeting Minister Geoffrey Onyeama, and several other African Ministers,  Berner who, in addition to her Foreign Ministry role, also holds the portfolio of Minister of Transport and Communication of Finland held bilateral talks with Adebayo Shittu, the Minister of Communication.
Both sides were keen to and expressed openness to further cooperation in several areas.
Finland is one of the five Nordic countries, consisting of Denmark, Iceland, Norway and Sweden.
They cooperate closely in the Nordic Council, and have had common labour market and free movement of citizens since the 1950s.
They share an economic and social model market economy combined with welfare state and are all well developed economies with a strong emphasis on good governance and gender equality.