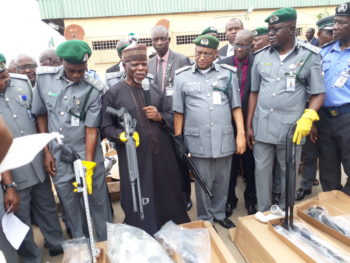 The House of Representatives has invited the Nigeria Customs Service and the Department of State Service (DSS) to brief it on the influx of small arms and light weapons into the country.
This was sequel to a motion under Matters of Public Importance by Obinna Chidoka (Anambra-PDP) to ascertain the cause(s) of the influx and how to stop it, on Wednesday .
Chidoka said that the Customs had on four occasions this year intercepted firearms, totalling 2,671 pieces, smuggled into the country since January.
He said that a set of firearms was seized in May while the third and fourth were seized in September.
Chidoka said that the seizure in January was intercepted by the Customs after it had been purportedly checked and certified freed.
He recalled that the firearms had left the premises of the port when it was tracked down after a tip-off.
"The recent firearms seizure, which is the second this month and fourth in 2017 would appear to suggest that the syndicate behind the firearms has stepped up its nefarious trade.
"This has far-reaching consequences for our dear nation, as firearms and light weapons are the lifeblood of organised crimes and criminality," he said.
The motion was unanimously adopted when it was put to a voice vote by the Speaker, Yakubu Dogara.