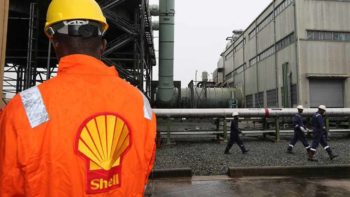 Some service companies have received $1billion from the Contractors' Support Fund established by Shell Companies in Nigeria supported by the Nigerian National Petroleum Corporation (NNPC), it was learnt.
According to a source at the Petroleum Resources Ministry, some companies including C&1 Leasing and Caverton Helicopter, have benefited from the Fund, adding that so far, Shell has disbursed about $1billion. While C&1 Leasing used its fund to acquire assets, Caverton Helicopter bought more helicopters.
Shell established the Contractors' Support Fund with eight banks. Last November, the oil giant signed a Memoranda of Understanding (MoU) with the banks to improve access to finance for vendors and suppliers in the oil and gas industry.
Under the deal, Access Bank, Skye Bank, Zenith Bank, Stanbic IBTC Bank, FirstBank, Standard Chartered Bank, First City Monument Bank and Guaranty Trust Bank agreed to set aside $2.2billion for contract execution.
The fund provides support for contractors to enable them finance projects executed for Shell Companies in line with the Nigerian Content Act. To access these funds, the contractors must have a valid purchase order and meet the banks'risk assessment criteria. This refreshed version of the Fund is in response to market realities and will offer loans faster and at cheaper rates.
This was the first tranche and that the banks offered a window of $1billion each. The source also added that the most important thing is that the Contractors' Support Fund is domiciled in Nigerian banks.
Shell Petroleum Development Company of Nigeria Limited (SPDC) Managing Director, Osagie Okunbor, during the signing of the MoU in Lagos with the banks, said: "Supporting SMEs under this scheme is for the mutual benefit all the parties. While the scheme reduces the pressure from requests for advance payments from contractors on us, it also ensures optimum delivery by our contractors, leaving the banks with a de-risked client base in addition to the comfort of domiciliation of payments."
Shell's Finance Manager, Nigeria and Gabon, Guy Janssens, said funding was key to enable contractors deliver, adding that the banks should make the scheme work.
Shell Nigeria Exploration and Production Company (SNEPCo) Managing Director, Bayo Ojulari, advised the contractors to perform to build trust.
NAPIMS Group General Manager, Dafe Sejebo, represented by Bunmi Lawson at event, implored the banks to make the loans available to the vendors. Similarly, the Petroleum Technology Association of Nigeria (PETAN) Chairman, Mazi Bank-Anthony Okoroafor, enjoined the banks to ensure easier access to the funds.