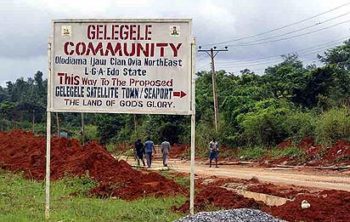 The Ijaw Youth Council (IYC), yesterdy urged Governor Godwin Obaseki of Edo state and Benin leaders to call the Benin National Congress (BNC) to order, so as to avoid unnecessary inter -ethnic war between the Ijaws and Benin people over the Gelegele sea port project.
The President of the IYC, Eric Omare, who spoke to newsmen in Benin City, said that the threat from the BNC to go to war with the Ijaws over the Gelegele sea project was capable of inciting Benin Youths against the Ijaws, warning that if urgent steps are not taken the issue may generate into a bloody ethnic war which will not do the Niger Delta any good.
It would be recalled that the BNC had warned the Ijaws to stay off the Gelegele land after they accused the Ijaw people of claiming the land and warned that they may go to war if the Ijaws tried to annex the Gelegele land which according to them belongs to the Oba of Benin.
But reacting, Omare said, "as some one who has contributed to the peaceful interethnic relationship in the Niger Delta, we condemn that statement, it is unnecessary, it is uncalled for and unacceptable to our people. I believe that there are more civil means of expressing once grievances rather than threaten war.
Furthermore such threat of war is not in tandem with the recent efforts of leaders of the Niger Delta under the auspices of PANDEF to bring all ethnic nationality in the Niger Delta region under one umbrella. To collectively and peacefully agitate for our right.
"More so the statement is inciting, it is capable of inciting Benin youths against Ijaw youths and which can snowball into interethnic crisis between the Ijaw and Benin people.
We therefore call on leaders of the Benin ethnic nationality and the government of Edo state to call leaders of the BNC to order in order to avoid unnecessary inter- ethnic crisis in the Niger Delta region.
"On gelegele" he added "what is need is for all stakeholders to work together towards the actualization of the Gelegele sea port project and not comments that will drive away investors. We are calling for immediate intervention so as to avoid crisis in the region between the Ijaws and the Benin people".