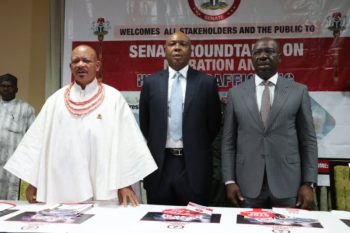 The European Union Ambassador to Nigeria, Ketil Karisen, has said Nigeria accounts for 60 percent of 10,000 illegal migration cases recorded in the last two months.
Karisen said this on Monday at the Senate Round-table on Migration and Human Trafficking, holding in Benin, the Edo State capital.
He said the latest figures of illegal migration was recorded between January and February 2018.
"In 2017, EU registered about 187,000 cases, with 116 deaths. For the year 2018, 411 deaths have been registered. Of the 10,000 illegal migration cases, Nigeria accounts for about 60 percent.
"The issue of migration and mobility is as old as the existence of man, and is no cause for worry. The primary concern should be irregular migration; the conditions the victims are being migrated and causes for such migration," Karisen said.
The EU ambassador said the situation therefore called for urgent, immediate and long term solution to the problems of irregular migration.
He also said that there was the need for shared responsibilities as well as bringing offenders to justice, adding that there was need to redouble efforts to dialogue on the best possible ways to addressing issue of migration.
The Senate President, Bukola Saraki, in his opening remarks, said that the issue of irregular migration and human trafficking had become the bane of the nation's existence as Nigeria currently ranked 23rd in EU irregular migration index.
He said, "This issue has become a disaster, a reference point for Nigeria as a country. Nigeria is ranked fifth among countries crossing the Mediterranean sea, with an estimated 10, 000 reported to have lost their lives in the process.
"The roundtable will serve as a spring board to stem the tide and would help identify reasons for irregular migration and human trafficking and proffer solution on the way forward."
The Senate president said the government was doing its best to liberate Nigerians from the slave trade in Libya as many lives had been lost in the cause of irregular migration, noting that the time was apt to end it.
Saraki added that there was the need to urgently begin to address the issue and described the effort by the Edo State government as the beginning of many steps that would be taken in bringing the problem to the fore.
He said that the summit would also address issues of how to improve policy legislation, funding to government agencies like the National Agency for the Prohibition of Trafficking in Persons and how to fast track pending treaties.
Earlier, Edo State Governor, Godwin Obaseki described the issue of irregular migration and human trafficking in the country as critical, noting that its magnitude had never been fully grasped.
He said the Edo government considered it a variance to the culture and value of the people hence, a taskforce was set up in the state to handle the issue.