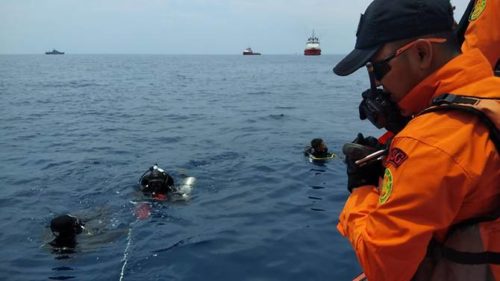 Indonesian divers on Tuesday resumed a search for an airliner that crashed with 189 people on board, as "pinger locators" tried to zero in on its cockpit recorders and uncover why an almost-new plane went down in the sea minutes after take-off.
Indonesia, one of the world's fastest-growing aviation markets, has a patchy safety record. With the now almost certain prospect of all on board having died, the crash is set to rank as its second-worst air disaster.
Ground staff lost contact with flight JT610 of budget airline Lion Air, 13 minutes after the Boeing 737 MAX 8 aircraft took off early on Monday from the airport in Jakarta, the capital, on its way to the tin-mining town of Pangkal Pinang.
"Hopefully this morning we can find the wreckage or fuselage," the Head of a National Transport Safety Panel, Soerjanto Tjahjono, told Reuters, adding that underwater "pinger locators", including equipment from Singapore, were being deployed to help find the aircraft's black boxes.
Although divers stopped searching overnight, sonar vessels and an underwater drone kept up the hunt for the wreckage, where many victims were feared trapped, officials said.
Only debris and body parts have been found off the shore of Karawang, east of Jakarta.
A Reuters witness on a boat at the crash site, saw teams of divers in black rubber suits enter the slightly choppy water from six inflatable boats.
"The visibility is not good as it's very overcast," a special forces officer said, noting the dive team had started just after dawn and been down to a depth of 35 meters.
Underwater footage released by the national search and rescue agency showed relatively poor visibility. In all, 35 vessels are helping to search.