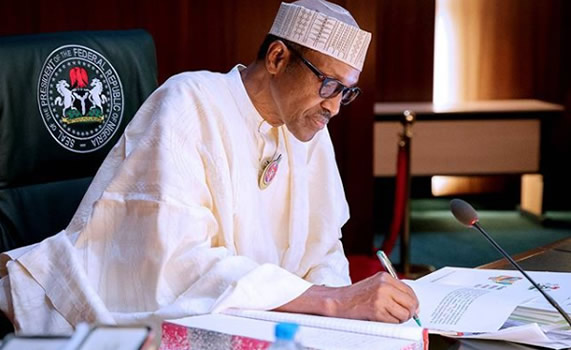 The Peoples Democratic Party (PDP) has asked President Muhammadu Buhari to resign over his age.
On Monday, Buhari while receiving a delegation led by the Minister of the Federal Capital Territory, Mohammed Bello, said he thought he turned 74 but was told that he is 75.
Reacting in a statement on Tuesday, PDP Deputy Spokesman, Diran Odeyemi, wondered how many other "inconsistencies" were in the president's bio data submitted to the Independent National Electoral Commission (INEC).
Odeyemi said INEC should revisit the forms filled by Buhari "to unearth other inconsistencies therein".
While saying Nigerians do not need a President that "forgets things too easily", Odeyemi said many Nigerians and even the global community must have been taken aback that a leader of a country did not know his real age.
He said, "How many other inconsistencies are in Mr. President's biodata submitted to INEC? We are sure there are more. And the world is waiting on the body to give details about our President.
"We advise INEC to revisit those forms President Buhari filled in all elections he had participated in, especially those he filled before 2015 elections to unearth other inconsistencies therein.
"In a normal clime, the electoral umpire would have set in motion verification modalities to avoid further national embarrassment and expose Mr President.
"Come to think of it, a leader that does not know his real age could not be said to have sound knowledge of the people and country he governs, let alone knowing the peculiarities of the governed. This is simply not the kind of President Nigeria needs at the moment.
"Not too long ago, Nigeria became laughing stock with the inappropriate designation of German chancellor, Angela Merkel as President of West Germany by President Buhari.
"We recall President Buhari once admitted that his age would slow down his performance in office. For a country that could fall into an emergency situation anytime, like the present government-failing induced fuel scarcity, we don't need a President that forgets things easily.
"We advise Mr. President to consider turning in his resignation letter to avoid further slowing down the country because of his age, and to also save our corporate image as a country that has a President with occasional memory failure."  
Copyright Ships & Ports Ltd. Permission to use quotations from this article is granted subject to appropriate credit given to www.shipsandports.com.ng as the source.