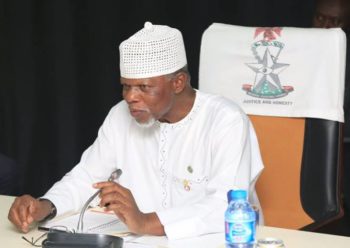 Industry stakeholders, mainly Customs brokers and freight forwarders have attributed the high revenue generation of N1.1 trillion collected by the Nigeria Customs Service to the high exchange rate and imposition of high tariffs by on importers.
The NCS on Thursday said it recorded its highest revenue collection of N1.1 trillion as against N770billion target set for 2017.
Customs Public Relations Officer, Joseph Attah, had in a statement made available to newsmen in Abuja, said despite the economic recession experienced earlier in the year with low volume of imports occasioned by the restriction placed on 41items from accessing the official foreign exchange window, the revenue was achieved "by some strategic measures in terms of restructuring and repositioning of the Service put in place by the Comptroller-General of Customs, Hameed Ali".
But speaking in a chat with SHIPS & PORTS DAILY, frontline clearing agent and President, National Council of Managing Director of Licensed Customs Agents (NCMDLCA), Lucky Amiwero said, "It is not to say that we have made one trillion naira. Most of all these things are values that are imposed. What is the effect on the trading public? So many importers have closed shop because when they (Customs) give you value, you must go and pay.
"The stress is on importers tying to pay and they need government intervention on that. We don't blame customs, we blame government that is giving them target.
"If you look at the revenue profile and tabulate it with the exchange rate, when you compare it with the other years, you will notice that the revenue will be down. They may have done some work to appreciate their target but that target is based on imposition of value."
Amiwero tasked Customs management to address the issue of high value imposed by officers all in bid to meet revenue target.
On his part, President, Association of Nigeria Licensed Customs Agents (ANLCA), Prince Olayiwola Shittu, said, "Don't praise customs. Praise the Customs agents for that achievement. We had collaboration with the CG and compliance level rose that is why they were able to achieve the feat. People have always underplayed the role of Customs agents in realization of Customs target. And of course a lot of revenue leakages were blocked.
"The exchange rate, which is used for calculation of duty also contributed. When the exchange rate is N200 when you are buying and when it gets to the country you have to pay at the exchange rate of over N200, then automatically you know you have to pay more," he said.