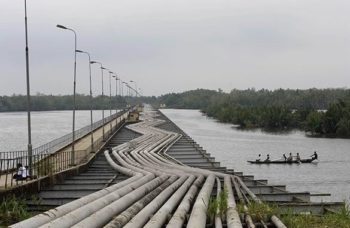 The scarcity of gas being experienced across Nigeria has been attributed to last year's incessant attacks on the Forcados trunk line.
The Nigerian Petroleum Development Company (NPDC), a subsidiary of the Nigerian National Petroleum Corporation (NNPC), disclosed this on Sunday.
"The pulverization of the Forcados trunk line by militants in 2016 gravely impacted gas production by NPDC and its JV partners", a statement by NNPC spokesperson, Ndu Ughumadu, quoted the Managing Director of NPDC, Yusuf Matashi, as saying.
"This primarily led to a loss of about 70 per cent of NPDC's crude oil production capability which had an effect on gas production."
Matashi, the statement stated, explained that gas production in the company's area of production was associated with the crude oil it produced, adding that by the time the crude was shut in the oil well, much gas was shut in the process.
"That is why we now see the level of gas supply shortage for power generation," he said.
The NPDC boss also noted that though other operators might have other reasons for the shortfall in gas supply in their domain, the damage of the Forcados export terminal supply line was the biggest obstacle to the production of gas by the NPDC and its JV partners.
He however pledged that the company would increase its gas production by 50 per cent when the Forcados line was back on stream, noting that within the last one year, the company had struggled to mitigate the effects on its production.