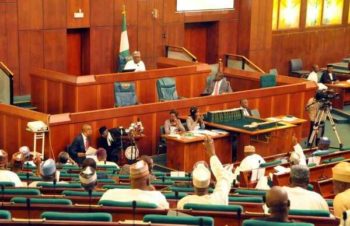 The House of Representatives Ad-Hoc Committee on the Review of Price of Petroleum Products has threatened to drag officials of Nigerian National Petroleum Corporation, NNPC, to the Economic and Financial Crimes Commission, EFCC, over alleged foreign exchange scam within the sector.
This is even as some oil companies which names appeared on the Central Bank of Nigeria, CBN, list as those that accessed forex for oil activities have denied having collected such monies.
But Chairman of the Ad-hoc Committee, Raphael Nnanna Igbokwe, has threatened that the committee would get to the root of the matter to determine the level of involvement of officials of NNPC in the alleged foreign exchange manipulation. Recall that two CBN directors were arrested last week by the EFCC over alleged manipulation of forex allocation.
Already, the committee has summoned Minister of State for Petroleum, Ibe Kachikwu; Chief of Naval Staff, Vice Admiral Ibok-Ete Ekwe Ibas; CBN Governor, Godwin Emefiele, to appear at the investigative hearing on Friday to explain, among other things, alleged discrepancies in the documents submitted by the CBN and most of the oil marketers and their agencies.
Oil firm denies receiving $26.486m forex
In a letter dated March 13, 2017, the committee alleged that one of the indicted companies, H. A. R Petroleum Services Limited, obtained forex worth $11,878,471.67 at the bid rate of 160.01 for importation of PMS in January 2015 and an additional sum of $14,607,992.69 at the bid rate of 310 for importation of PMS in June 2016.
But responding, Andrew Haladu, a Director of H. A. R Petroleum Services Limited, denied the receipt of the forex from the apex bank, explaining that it handled logistics related services and never participated in importation of petroleum products. He said: "Please note that H.A.R Petroleum Services Limited is primarily involved in the provisions of logistics support for bulk supplies belonging to select majors and Independent who are clients."
"H.A.R petroleum services limited acts in an agency capacity to its clients for the sourcing and delivery of bulk supplies to nominated facilities as instructed by same clients. We undertake all logistics related to ensuring that the Daughter vessel of the client is berthed and discharged to their nominated facility with strict adherence to the requirements of security and regulatory agencies present at the seaport.
"We as a company, at no time, have had cause to purchase Gasoline from NNPC Retail, PPMC or any other source, neither have we at any time approached or received authority to import Gasoline into Nigeria from the Petroleum Pricing Regulatory Agency, PPPRA, of the Department of Petroleum Resources, DPR. In like manner, we could not, therefore, have received forex from CBN for gasoline.
"In regards to the documents requested, we are unfortunately unable to provide these, as these documents would be in custody of our clients, who have imported the cargoes you seek clarity. For the transactions specifically mentioned in your letter, these would seem to both be Gasoline imports of Total Nigeria PLC for which we handled the logistics of managing the supply to their facilities." Worried by the failure of the company's Chief Executive Officer to appear before the adhoc committee, Igbokwe had last week, asked the Inspector General of Police and Comptroller General of Nigerian Immigration Service, NIS, to determine the whereabouts of the official and ensure his appearance on Friday, April 7, 2017.