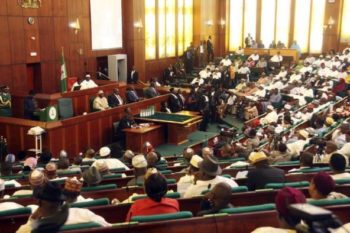 The House of Representatives has resolved to investigate the alleged importation of arms, ammunition and military equipment by Governor of Kogi State, Yahaya Bello.
This followed a matter of urgent public importance by Rep. Sunday Karimi (Kogi-PDP), who noted that the lower chamber must act fast to save the lives of ordinary citizens in the state.
The lawmaker also expressed worry that the Nigeria Customs Service had done little or nothing about the said subject matter.
"Instead of the Nigeria Customs Service to promptly arrest the importer of the treasonable act of importing military hardware and items into the country, it only requested the importer to provide an End-user certificate from the National Security Adviser.
Karimi noted that only the military was constitutionally empowered to import such item.
"I am afraid that if the trend is allowed to continue, politicians, state governors and private citizens will start to import arms under the guise of equipping the military.
"This, in the long run, will jeopardize security and lives of innocent Nigerians," he said.
Supporting the motion, Reps. Hassan Saleh (Benue-APC) and Nnena Elendu-Ukeje (Abia-PDP), said that the problem facing the country today had to do with security.
The House stressed the need for the executive to take the proliferation of arms in the country seriously.
The motion was unanimously adopted by members when it was put to a voice vote by the Speaker, Yakubu Dogara.
The House also resolved to invite the Comptroller General of Customs, Retired Col Hameed Ali to explain why it only requested end user permit from the importer.