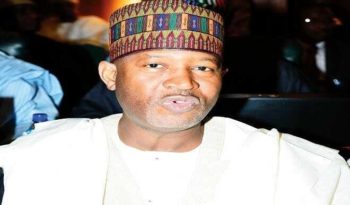 A former Director-General of the Nigerian Civil Aviation Authority (NCAA), Harold Demuren, has condemned the appointment of unqualified personnel into critical areas of NCAA by Minister of State for Aviation, Hadi Sirika. He said if care was not taken, the nation would return to the era of air crashes.
"I learnt we today have a Director of Airworthiness in NCAA who no one in this sector seems to know, but they said he studied and worked at the Nigerian College of Aviation Technology (NCAT), Zaria, but later [left] to become a politician and had left the industry for over 20 years," he said. "I can see the concern here. A man who is going to issue Certificate of Airworthiness must know what he's doing. He must be efficient and capable and must be strong. Such a person can be put in FAAN, NAMA or even NIMET, but when you put such a person in NCAA, we are digging our grave. Let's hope those people will be able to learn and they are trainable."
He also criticized the appointment of a civil engineer as a director of aerodrome, adding, "I think he's not qualified to be appointed into such a position."
Demuren made the disclosure at a breakfast meeting organized by the Aviation Round Table (ART) in Lagos. The roundtable's theme was "NCAA Autonomy and Safety Compliance."
He also stated that an unnamed former Minister of Aviation once tried to force him to issue an Air Operators' Certificate (AOC) to an unqualified would-be airline operator.
According to Demuren, the former aviation minister insisted he issue the AOC to the intending carrier because the major airline promoter was the minister's friend.
He told the participants at the roundtable that he flatly told the minister that the days of issuing AOC to unqualified airlines at night or even at home was over in the industry, especially since the regulatory agency had been granted autonomy.
He added that his refusal to grant an AOC to the unqualified airline led to a poisoned relationship between him and the minister who regarded him as stubborn and uncooperative.
"The minister was not happy, but I ensured that the right thing was done because, to get an AOC, you must go through several stages," the former NCAA boss stated.
Demuren also disclosed that another minister ordered him to submit the funds budgeted for the training of technical personnel to be used for the painting of toilets at the nation's airports.
He said he also resisted the minister's order, adding that his defiance signaled the beginning of an unending crisis between him and the particular female minister.
Demuren most likely was referring to Stella Oduah, who was an aviation minister between 2011 and 2014. During her time as minister, she focused much of her attention on remodeling of airports in the country, spending more than N700 billion on such projects and accruing debts of N174 billion.
During  Oduah's ministerial stint, agencies like the Federal Airports Authority of Nigeria (FAAN) and the Nigerian Airspace Management Agency (NAMA) were regularly compelled to donate funds to a dedicated account set up by the minister for the remodeling projects.
Demuren also revealed that another minister brought 200 people into NCAA for employment in one day while another Chairman of the Aviation Committee at the National Assembly also came with a list of 15 people he said must be given employment. The former DG said he turned down both the minister and the legislator.
Demuren advised present and future DGs of the NCAA to be proactive and ensure compliance with aviation regulations in line with the International Civil Aviation Organization (ICAO) recommended standards.
He said this was the recipe to avoid being pushed around. He also suggested that economic regulations should be removed from the NCAA to enable the agency to ensure effective safety regulation of the airlines in the sector