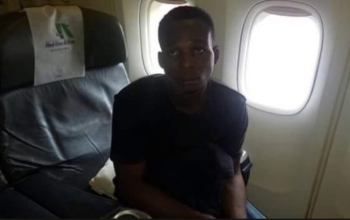 The Nigerian authorities on Wednesday launched investigation into claims that a teenager survived 12 hours hidden in the wheel compartment of a plane between Lagos and London.
Spokesperson of the Nigerian Civil Aviation Authority (NCAA), Sam Adurogboye, confirmed the investigation on Wednesday.
The boy, said to be aged 15, was reportedly discovered in the wheel compartment of a Med-View Airline Boeing 747 which made the trip on Saturday.
Adurogboye said the authorities were disturbed by the incident because of its implications for air safety, saying how the teenager survived at an altitude of 32,000 feet (9,754 metre) was a mystery,
"We are looking into the incident to find how it happened and to prevent a recurrence," he added.
Earlier, Oyibotha Obuke, spokesperson of the airline, had said that it was cooperating with the relevant authorities.
Hypoxia or oxygen deficiency normally sets in from about 10,000 feet and would quickly render a person unconscious.
Temperatures at that altitude plunge to -48 degrees Celsius (-55 degrees Fahrenheit), causing hypothermia.
There have however been previous examples of stowaways surviving in the wheel compartment of passenger jets.
According to an October 1996 report by the US Federal Aviation Administration, "Survival at High Altitudes: Wheel-Well Passengers", there were five survivors between 1947 and 1993.
Three of them were teenagers, one aged 13 and two aged 17.
Similarly, in April 2014, the U.S. Federal Bureau of Investigation said a 16-year-old boy survived a five-and-a-half-hour flight from California to Hawaii at altitudes of up to 38,000 feet.
In October 2007, a 27-year-old man was charged with entering Singapore without a valid pass or permit, after stowing away on a 35-minute flight from Kuala Lumpur.
In March 2016, the body of a stowaway was discovered in the undercarriage of an Arik Air jet flying from Lagos to New York.
Also, another body was found on an Arik Air flight from Lagos when it landed in Johannesburg in November 2016.