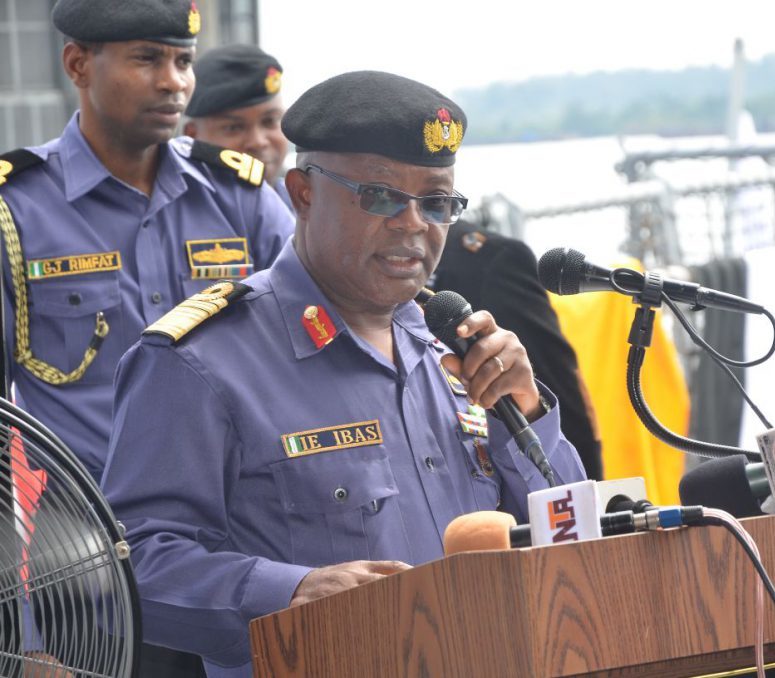 In a bid to effectively police the Gulf of Guinea and other riverine areas in Nigeria, thereby boosting the nation's maritime economy, the Nigerian Navy has acquired over 173 assorted boats.
Chief of Naval Staff, Vice Admiral Ibok-Ete Ibas made this known during a press briefing to commence activities to mark the 62nd anniversary of the Nigerian Navy on Tuesday.
Ibas said that the boats would go a long way in bolstering the Navy's capacity to police and carry out survey of Nigeria's maritime domain.
Represented by the Chief of Naval Transformation, Rear Admiral Begroy Ibe-Enwo, Ibas said that there has been enhanced surveillance as a minimum of 42 vessels have been arrested for involvement in various illegalities in Nigeria's maritime domain.
The said vessels are reportedly undergoing various stages of investigations and prosecutions.
Ibas noted that such policing operations are specifically aimed at checking crude oil theft, illegal bunkering, piracy/sea robbery and illegal fishing among others.
According to him due to the enhanced surveillance, attacks in the maritime environment has reduced drastically, saying, "We have done very well. I must say this because in 2016, for instance, we had 76 reported attacks while in 2017 we had 34 and this year the attacks is reducing. This is because our ability to counter these attacks has improved due to the various exercises we engage in to build capacity of the men."
He said this has been made possible through the upgrade of available maritime surveillance equipment, which includes the Regional Maritime Awareness Capability (RMAC) and Falcon Eye systems.
He said, "Accordingly, the NN has 9 RMAC sites established at Badagry, Bonny, Naval Base Apapa, Ibaka, Brass, FOB FORMOSO, NHQ as well as the Headquarters of the Eastern and Central Naval Commands. Similarly, the NN is working towards increasing its Falcon Eye system from 9 sites at present to 12.
"When completed, these facilities will enable the NN expand its surveillance coverage of Nigeria's maritime domain, with more effective check on illegalities."
Speaking on the activities to mark the 62nd anniversary of the Nigerian Navy, the Chief of Naval staff said they would include the commissioning of some projects in the Commands.
He said, "On Saturday 26 May 18, the Commands will carry out Medical Rhapsody. The Rhapsody is a grassroots social and medical outreach programme usually held in rural communities where there is naval presence or where the Nigerian Navy is having a major event."
Copyright Ships & Ports Ltd. Permission to use quotations from this article is granted subject to appropriate credit given to www.shipsandports.com.ng as the source.